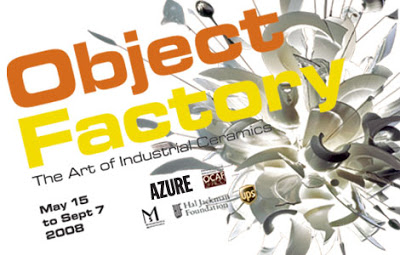 In combination with the exhibition Object Factory: The Art of Industrial Ceramics
which runs May 15 – Sept 7, 2008 at the Gardiner Museum in Toronto, tomorrow they are hosting:
EXHIBITION SYMPOSIUM
Craft and Design Interface
May 17, 1 – 4 pm at Gardiner Museum
$20 Public/ $16.25 Members/ OCAD students free
Speakers include:
Jorunn Veiteberg
Glen Brown
Ezra Shales
Dov Granchrow
Marek Cekula
Sara Diamond
From the Gardiner Website:
"This groundbreaking exhibition will both startle and delight you with the work of international artists and industrial designers re-imagining the possibilities of ceramics in the 21st century.
See more than 200 objects from eighteen countries, including work by artists Cindy Sherman and Arman, designers Ettore Sottsass and Masahiro Mori, and industrial manufacturers Rosenthal and Nymphenburg.
Curator Marek Cecula emphasizes the new relationship between artists, designers and industry that "has heralded a vitality and fresh orientation to ceramic material." The exhibition also includes sections devoted to recent advances in ceramic materials and technologies, and to the creative manipulation and re-use of industrial ceramics by studio artists."
Sounds like an amazing exhibition so hopefully some of you can check it out. For the rest of us there are some podcasts on the Gardiner website.