Well it's sad to say, but today is the last day of April and thus artist of the day month is over…sigh. It was fun while it lasted right?
I really want to take a minute to thank each and every artist that participated and shared their amazing talents and work with us. I feel like it's been a month full of insight into so many unique approaches to subject matter, process and perspectives on contemporary craft theory and production. I think this is definitely something I'm going to have to bring back in the future…
So last but not least I leave you will today's artist of the day: Paula Cooley, who is a fantastic artist I've had the pleasure of collaborating with recently for our Subverted Utility exhibition in Red Deer. I think i'm often drawn to her work because it incorporates so much aesthetically and formally that my work doesn't. Not that one aesthetic is better than the other, i'm just really compelled by a visual language or vocabulary that is distant from my own. It sparks my curiousity and wonder. There is alot of play and personality in Paula's work, I do hope you enjoy it as much as I do.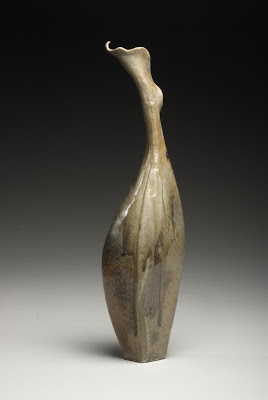 In Paula's words: "Initially I was interested in functional pottery but over time I have become increasingly intrigued by sculptural vessels. For me, the way a vessel shapes space now takes precedence over its function. The suggestion of movement and growth is key to my current ceramic work: I want my pieces to look as if they might dance or grow.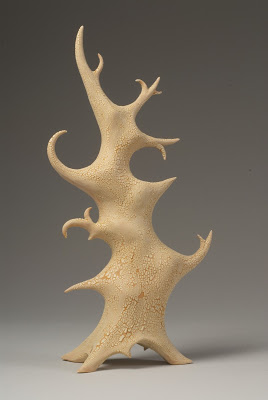 Some of my vessels are built as mated or interdependent pieces, and placed to create negative spaces as evocative as their positive forms. Like the space inside a vessel, the surrounding "empty"space can be manipulated to become a dynamic, and necessary part of the work, a means of transforming two or more separate objects into a single work of art.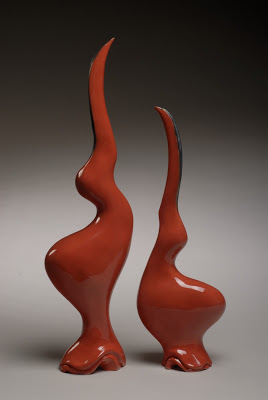 I work with many types of clay (earthenware, porcelain, stoneware), matching the clay to the surface I wish to achieve. Through their long history the ceramic arts have evolved a tremendous range of decoration and firing techniques, each geared to achieve a specific result. Some pieces I choose to fire in a low temperature raku kiln while others are fired in high temperature atmospheric kilns (salt and/or wood.)Some of my pieces have no glaze: their surface decoration is a result of smoke and burning combustibles. Other works have both glaze and paint on their surfaces.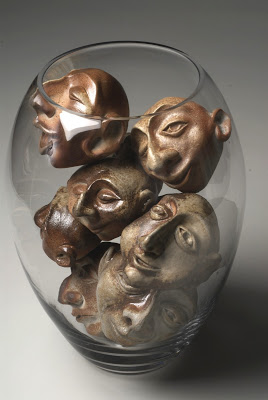 My vessels are wheel thrown or hand built, and many are altered by removing or adding clay. These alterations help me to capture the fluidity of life–a sprouting plant, a moving body. My pieces are organic in appearance, reflecting the natural world that is the ultimate maker of vessels: seeds, bulbs, shells, bodies. "
Thanks again everyone for making April so beautiful to look at here at musing!