EXPRESSIVE SURFACES
October 23-25, 2009
Kansas City, Missouri
Hosted by
Red Star Studios
Potters Council is introducing a new workshop format that will allow attendees a more intimate class size, hands-on learning, and three full days of studying techniques presented by two internationally renowned ceramic artists.
Lorna Meaden
(Colorado) and
Mark Peters
(North Carolina) will provide instruction, demonstrations and projects that will address any questions you may have regarding their surface techniques.
Featured Artists: Lorna Meaden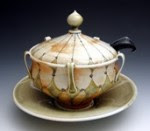 and Mark Peters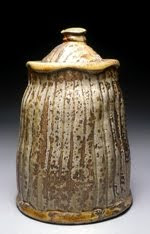 Inspiring Surfaces
Are you driven to learn new ceramic techniques to take your work to the next level? Push the limits and immerse yourself in the clay surface with two of America's best-known artists, Lorna Meaden and Mark Peters. This workshop will show how the collaboration of the artist, the clay and the fire come together to make pots both ornamental and practical. Whether you're an avid amateur, passionate professional or an educator this workshop is for you.
For all the workshop details and registration visit the Ceramics Art Daily Education site.
For more information, visit Mark's website: www.pinerootpottery.comSee more of Lorna's work at www.lornameaden.com