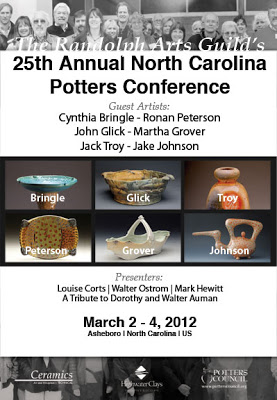 Celebrating 25 Years of Potters Conference
March 2-4, 2011
Downtown Asheboro, NC
To celebrate our 25th conference we have invited three premier potters to present and demonstrate their talents and techniques. We have also provided them with the unique opportunity to each invite an up and coming potter whom they feel is noteworthy to present and demonstrate as well. Cynthia Bringle invited Ronan Peterson, John Glick invited Martha Grover, and Jack Troy invited Jake Johnson. We hope you will join us to help celebrate the 25th North Carolina Potters Conference. Registration
Pre-Registration is Required!
Registration: $225.00 per person
Includes all meals Registration is limited to 150 persons Visit http://www.randolphartsguild.com/events/potters-conference.html for more information.