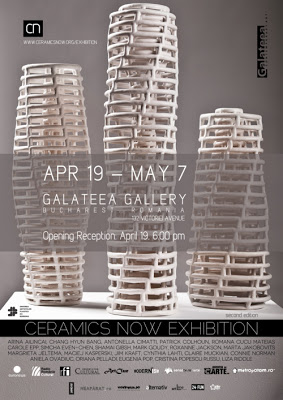 Galateea Gallery, Bucharest
April 19 – May 7, 2012
Opening reception: April 19, 6-9 pm.
The second edition of Ceramics Now Exhibition presents at Galateea Gallery, Bucharest, the works of 22 contemporary ceramic artists from 9 countries – Romania, USA, Canada, Israel, Italy, Ireland, United Kingdom, South Korea and Poland. The works of the Romanian artists who are presented in the exhibition are an addition to the 15 works that were exhibited in December 2011 at The Paintbrush Factory, Cluj-Napoca.
Through this exhibition, Ceramics Now Magazine is trying to bring together and open a dialogue between contemporary ceramic artists from all over the world – all working in different techniques and approaching a variety of subjects and motifs. The catalog of the exhibition is available for free download here: www.ceramicsnow.org/mediapack
EXHIBITING ARTISTS: Arina Ailincăi (RO), Chang Hyun Bang (KR), Antonella Cimatti (IT), Patrick Colhoun (UK), Romana Cucu Mateiaş (RO), Carole Epp (CA), Simcha Even-Chen (IL), Shamai Gibsh (IL), Mark Goudy (US), Roxanne Jackson (US), Marta Jakobovits (RO), Margrieta Jeltema (IT), Maciej Kasperski (PL), Jim Kraft (US), Cynthia Lahti (US), Claire Muckian (IE), Connie Norman (US), Aniela Ovadiuc (RO), Oriana Pelladi (RO), Eugenia Pop (RO), Cristina Popescu Russu (RO), Liza Riddle (US).
Curator: Romana Cucu Mateiaş
Coordinator: Vasi Hîrdo
The international exhibition "Ceramics Now" is an itinerary exhibition of contemporary ceramics which presents works that are featured in the issues of Ceramics Now Magazine. The goal of the exhibition is to raise visibility of contemporary ceramics in Romania. The exhibition reunites artists from different countries and communities, and facilitates contact between them and the public. Ceramics Now Magazine and Exhibition operate as an exchange platform between artists, galleries, museums, collectors and people passionate about art.
Ceramics Now Magazine is a comprehensive and innovative quarterly publication specialized in contemporary ceramics. Founded in 2011, the magazine features interviews, articles, reviews and works of emerging and world-renowned ceramic artists. It is distributed all over the world in a network of libraries, galleries, museums and institutions.
Reopened at the initiative of the Romanian Fine Arts Union in December 2011, Galateea Gallery is the first gallery of contemporary ceramics in Romania.
Galateea Gallery is located on 132 Victoriei Avenue, Bucharest, and is opened from Monday to Friday between 12 am – 8 pm, and on Saturdays between 11 am – 7 pm.
Exhibition organized by Ceramics Now Association and the Romanian Fine Arts Union.
www.ceramicsnow.org/exhibition · www.galeriagalateea.blogspot.com
Facebook event: https://www.facebook.com/events/339342859458311/