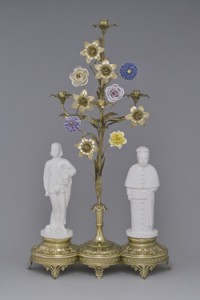 Man or Myth? Explorations on Masculinity

May 4 to June 30, 2012
Opening Reception: Friday, May 4, 7:00pm
Three artists explore their personal relationships with the
traditional notions of masculinity and how this identity can be a fluid
one. The Croatian-born Srdjan Segan's 40-foot elongated clay
site-specific sculpture and 30-foot long drawings of the 'every-human'
pulls from his war experiences while a refugee during the Serbo-Croatian
war. Meanwhile, Clint Neufeld's series of slip-cast ceramic auto
transmissions and parts are decorated with delicate Rococo filigree and
ornamentation. Finally, the infamous ceramic sculptor, Léopold L. Foulem
unveils his latest works, Bibelots in which the figurine—a trivial
cultural object—powerfully challenges the status quo.
Clay & Glass Website
25 Caroline Street North, Waterloo, Ontario, Canada, N2L 2Y5
Telephone: (519) 746-1882
Fax: (519) 746-6396
E-mail address: info@canadianclayandglass.ca