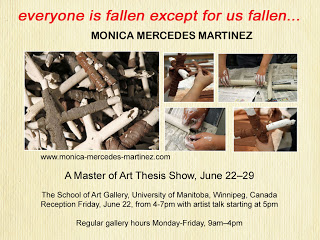 School of Art Gallery
University of Manitoba, Winnipeg Canada
Reception and Artist Talk Friday June 22nd
www.monica-mercedes-martinez.com
Artist Statement
This work began after I started
researching the 1973 Chilean military coup. I learned that the military
would take the bodies of their victims up in helicopters and throw them on
the peaks of the Andes Mountains, into the Pacific Ocean or onto the vast
emptiness of the Atacama Desert in order to dispose of the
evidence
of their crimes.
The description of the bodies thrown onto
the Andes, in particular, reminded me of the human sacrifices made by the
pre-Columbian Inca people who once inhabited the area. However, this
time the sacrifice was made to political dogma instead of for
religious reasons. But both sacrifices were made to maintain
the power of the ruling classes so the parallels, to my mind at
least, are poignant.
The cross forms, which vary in size and
shape, are constructed from terracotta and porcelain. These white
bone-like forms are wrapped in terracotta bindings impressed with the
texture of fabric, referencing the burial shrouds found in the few mass graves
to which the military eventually admitted and also to the Incan mummies
found in the Andes.
The Inca carefully wrapped their sacrifices
before offering them to the sky, demonstrating their preciousness. My
meditative act of binding these cross forms in strips of material is essential
to their formation as it represents the care that should have been given to the
violated dead.
The cenotaph that emerged from my process
honours those that were silenced, those who were exiled – and the endurance of
those who remained behind.
Bio/press release
MONICA MERCEDES MARTINEZ is a mixed media object maker with ceramics playing an
intrinsic role in her artistic practice. As a South American who grew up on the
Canadian Prairies, she uses her practice to facilitate discussion about the
historical foundations that we exploit to define who we are and where we
belong.

For Monica Mercedes Martinez's MFA show, "everyone is fallen except us
fallen…" she utilizes her innate sense of materials and experimental processes
to explore events that lead to the Chilean coup in 1973. Her exhibition
showcases a large sculpture which is the result of years of research and
experimentation.