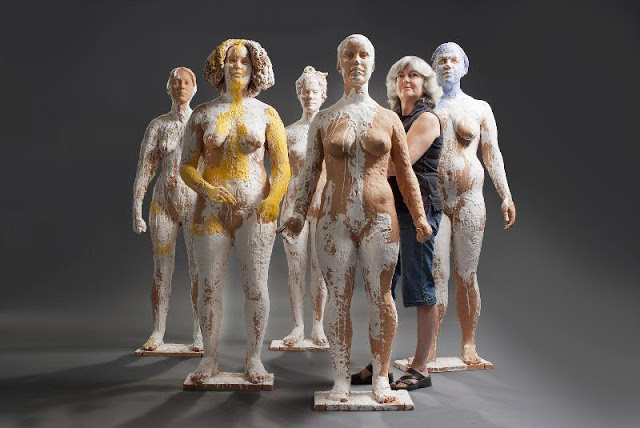 The Gardiner Museum, Kathy Venter – LIFE opens May 30, running until September 15, 2013.
Featuring
this celebrated ceramic artist, internationally recognized for her
life-size figurative sculptures, the exhibit introduces dialogues with
time, femininity, and community, capturing the continuity of the human
condition.
The exhibition presents a large installation of
Venter's sculptures which she produced in series, including One,
Revision, Ostraca, Immersion, Coup d'Oeil and the never seen before
Metanarrative. Most of her figures are presented full scale – standing,
sitting, reclining or suspended by cables in space – while others are
limited to heads and torsos. Each work is direct and engaging; life-size
and nude. They are a measure of our humanity. Their strong presence
derives from the artist's intimate engagement with her models – most of
which are women – who posed over long hours in her studio.
"We
are extremely excited to present Kathy Venter – LIFE at The Gardiner
Museum this summer," says Rachel Gotlieb, Interim Executive Director
& Chief Curator, Gardiner Museum. "Kathy Venter chooses the
terracotta as a primary medium to explore the history of representation
of the female figure. This dramatic installation stimulates discussion
about sculptural praxis in contemporary art."
Venter describes
each work as "a slow construction" by which she "applied the clay, piece
upon piece, within a silent dialogue between the model and myself,
comfortable with my medium and tradition, accepting of their
constraints." The forms are built from the feet up using the traditional
coiling and pinching techniques, without the use of life cast molds or
internal armatures. The sculptures' surface treatment is inspired by the
Tanagra figures of the Mycenaean period, encrusted and worn from
centuries of burial.
The exhibition is curated by Montreal author and critic John K. Grande.
What's On Throughout the Exhibit?
Patron Circle: May 28, 5:30 – 7 p.m.
Exclusively
for Patron Members, artist Kathy Venter and guest curator John K.
Grande will lead a tour of the exhibition followed by a cocktail
reception with hors d'oeuvres by à la Carte Kitchen.
Member's Preview: May 29, 10 a.m. – 8 p.m.
Members,
bring all of your friends and be among the first to experience Kathy
Venter – Life for this special preview. The gallery is reserved between
12:30 – 1:30 p.m. for members who have purchased tickets to the Members'
Lunch, which includes a private tour. Following the tour, artist Kathy
Venter will be available in the gallery from 1:30 p.m. Cost: Free for members
Members' Lunch & Tour with Artist & Curator: May 29, 12 – 1:30 p.m.
Enjoy
a delicious lunch prepared by à la Carte Kitchen, followed by a tour of
the exhibition with artist Kathy Venter and guest curator John K.
Grande. Cost: $30 – Members only
Not a member? You can take advantage of the Gardiner Museum's May Membership Promotion by clicking here.
Lecture: Kathy Venter and the 'Flesh of the World': June 6, 6:30 – 8 p.m.
Dr.
Elizabeth Legge, Associate Professor of Art, University of Toronto,
explores how Venter creates figures who seem at once ancient and fully
in the present, both a comfortable presence and an enigmatic
interruption of our experience of the world. Sponsored by Dr. Lorna
Marsden. Cost: $15 general admission, $10 for members
Lecture: Hands On: The Figurative Tradition in Terracotta Sculpture: June 20, 6:30 – 8 p.m.
Dr.
Betsy Bennett Purvis, Lecturer in Renaissance Art History, University
of Toronto, will examine a variety of figurative terracotta sculptures
from the Renaissance to the present, with a special emphasis on
life-likeness and the materiality of terracotta itself. Cost: $15 general admission, $10 for members
www.gardinermuseum.on.ca/exhibition/kathy-venter-life



111 Queen's Park
Toronto, Ontario
M5S 2C7
Canada
Tel +1 416.586.8080
Fax +1 416.586.8085