Lee & Yolande Clark are dedicated
Canadian wood-firing ceramic artists. A tragic oil spill has devastated
their home, land, studio and kiln. Help them rebuild.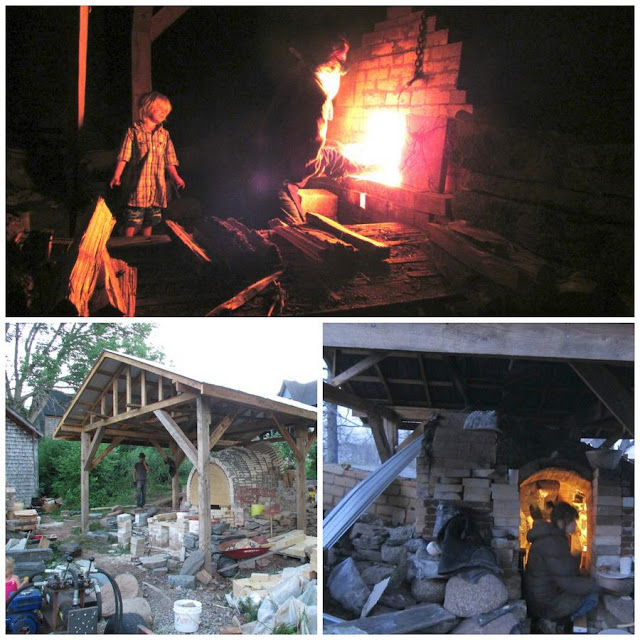 We are Lee Horus Clark & Yolande Clark. We are wood-firing
ceramic artists, and we have dedicated our lives to art, to clay, to
fire, and to our family for many years. We have worked extremely hard to
create a home for our children, and a kiln on our own land.
We have 3 beautiful children: Horus, 4, Treva, 2, and Felix, 10 months old.
The pottery and sculptures of both Lee and Yolande are recognized
nationally and internationally. We exhibit both in New Brunswick and
abroad, and we have both been the recipients of provincial arts grant
funding.
Lee Horus Clark has a large sculptural vessel in the permanent collection of the Beaverbrook Gallery, Fredericton.
Two years ago, after a decade of insecurity, we borrowed more money,
and finally moved to our home, a 1/2 acre property in the tiny hamlet
(population 75) of Queenstown, in rural New Brunswick. It took us a
year to build our Anagama kiln, and many thousands of borrowed dollars
for bricks and materials. We fired the Queenstown Anagama for the first
time in August, when our youngest child, Felix, was 2 weeks old.
What Happened?
Last week, on June 1st, 2013, there was a
large and catastrophic oil spill. Our heating oil tank began to leak,
and the oil streamed into the ground behind our house, down the hill,
and pooled around our kiln.
Our water well is located 4 feet from the oil tank. A stream, that
runs directly into the St. John River, is just feet from the kiln, where
the oil is concentrating.
We called the New Brunswick Department of the Environment immediately, and we evacuated our family.
Over the past few days, we have moved our possessions out of our home, as the nightmare has unfolded.
What Now?
We have been informed by the Department of the Environment that our
home is uninhabitable, our water undrinkable, and in order to clean up
the oil spill responsibly, the property will have to be excavated.
Please read more about the situation and how you can help.
www.indiegogo.com/projects/save-clark-wood-fired-pottery