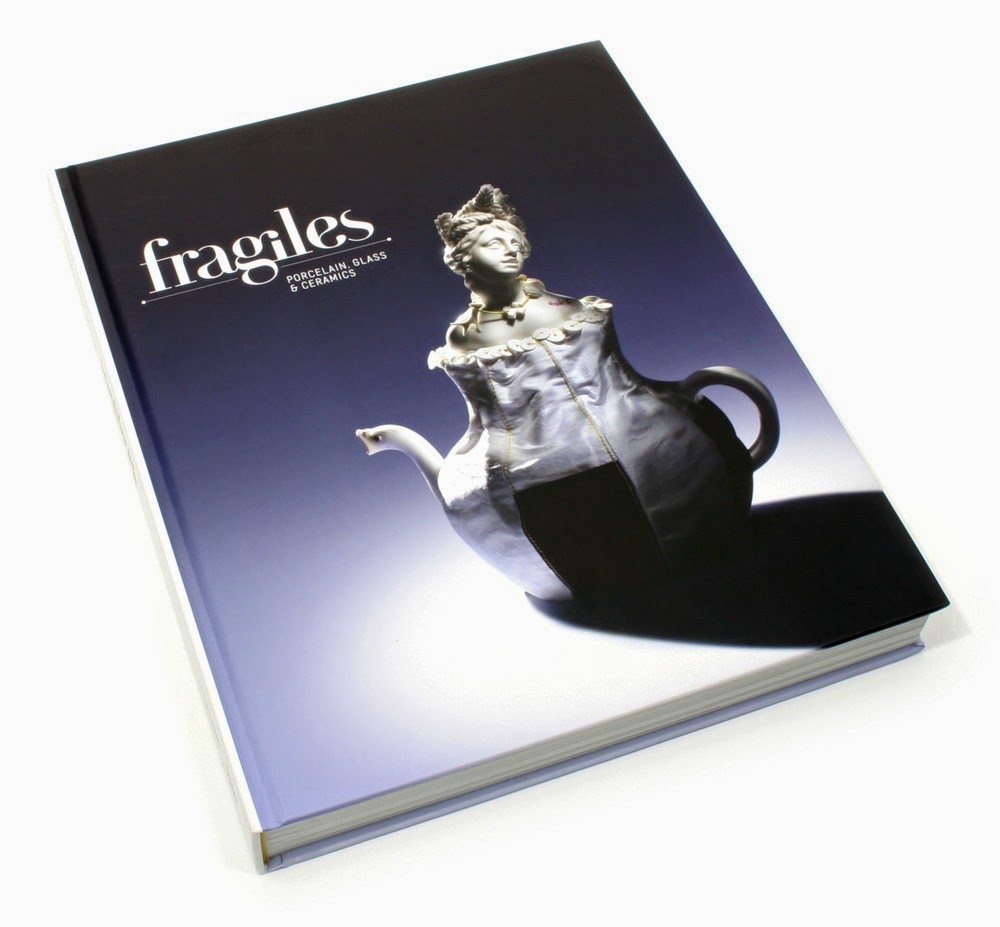 Fragiles:
Porcelain, Glass and Ceramics
Edited
by Robert Klanten, Sven Ehmann and Sabrina Grill.
Text by Sonja Comments for Gestalten. Published by Gestalten, Berlin 2008
ISBN
978-3-89955-208-9
Reviewed
by: Vivian Orr, Communications & Publications Coordinator, Saskatchewan
Craft Council
"Fragiles is an eclectic
collection of unconventional contemporary work in porcelain, glass and
ceramics. Today, these materials are increasingly being used in playful ways by
both established and emerging design talents, who are inspired by Modernism, an
ironic depiction of kitsch and an expanded repertoire of forms made possible by
technological developments such as rapid prototyping. The spectrum and quality
of these innovative projects shows a current generation of designers just how
relevant and challenging working with these traditional fragile materials can
be." ~Publisher
WARNING
(from Vivian): Do not take this book to bed. It is over 2 kg, almost 5 lbs. You will not be able to breath
with it on your chest. Besides it is so interesting forget about sleeping. You
might as well sit in a comfortable chair.
The
book is divided into six chapters. The first chapter is PORCELAIN AS CANVAS and
the first artist is Tord Boontje.
http://tordboontje.com/
Boontje
is a designer whose work I personally love. Internationally recognized, he has
work in the permanent collections of the MOMA, New York and the Victoria and
Albert Museum, London. In this book Boontje's TABLE STORIES (designed for
Authentics) is featured.
"This
collection is a rich graphic narrative on everyday ceramic plates, bowls and
glasses. The drawings for the plates are filled with flowers, deer, squirrel,
birds, bear, butterflies, horses, bunnies and a peacock. The animals and
flowers seem to merge and to grow out of each other. Some of the elements we
have hidden inside the patterns, there is for example a hidden mouse in one of
the plates. Over time you can discover new elements while eating.
The graphic
images are applied as an underglaze print. This is an old ceramic technique by
which the image is first fired onto the ceramic body and second a clear glaze
is applied on top. This gives it a very durable, hard wearing quality, making
it suitable for everyday use."~Studio Tord Boontje
This first
chapter is filled with strong examples of graphic images applied to plates,
cups, saucers, trays, bowls, bottles, etc. Some are monochromatic, some are
brightly coloured, all display a very personal, contemporary and fresh take on
traditional shapes and imagery.
Chapter two
FRAGILES IN TRANSITION highlight artists' abilities to transform, or perhaps
more accurately – transmogrify everyday objects into something eye-popping.
Stephen
Burks describes his PATCHWORK SERIES for Missoni:
"although
some people might call them decorative, they're much more of a recycling
project, about using a specific material in a structural way." ~ Stephen Burks
The result
are thrift store vases meticulously covered, decoupage-like, in vibrant, striped, swatches
of Missoni fabric scraps then sealed in resin.
"In an age
of mass production craft really resonates." ~Stephen Burks
And now for
something completely different …
Dror
Benshetrit VASE OF PHASES (produced by Rosenthal) are stark and darkly elegant.
"The VASE
OF PHASES highlights the beauty of experience and reflects Dror Benshetrit's
ruminations on the ideas of purity, damage, and transformation. The porcelain
vases are cast from moulds created from the three smashed originals."
Watch an
interview of Benshetrit talking about his process to create VASE OF PHASES:
And for
DIY-ers out there, Xavier Mañosa has created PISSARO (produced by Apparatu);
vases coated with blackboard paint. You can draw and erase to your heart's
content.
Watch a
video of the Apparatu artisans creating extrusion bowls:
Chapter
three OBJECTS AND DESIRES ranges from stunning to a wee bit disturbing.
Magdelena Nilsson's very textured vase STOMACH is deceptive at first glance.
"I have
translated animal intestines into porcelain, transforming the soft, red, and
bloody into something clean, white and hard. The unusable became useful, and
the disgusting beautiful." ~Magedelna Nillson
To see more
of her work visit:
On the
stunning side of the scale, four of Jennifer McCurdy's hand thrown, altered and
carved vessels are featured. Her vessels are organic, filled with movement and
energy.
To see more of her work visit:
I am going
to close this article with BEADS & PIECES, designed by Hella Jogerius, it
is a Design With Conscience project.
"Design
With Conscience, founded by Artecnica in 2002, is a program for the design and
manufacturing of products to be in accordance with humanitarian and
environmentally sensitive principles."
"Artisans
located in the primary coca leaf-growing region of Peru handcraft the
collection. With the help of Aid to Artisans, a non-profit organization that
provides practical assistance to artisans worldwide, Artecnica offers an
alternative economic reality to the people of this dangerous and oppressed
area. With its black ceramic embellished with delicate pink beading, Beads
& Pieces is classic Jongerius. Ceramic floral bouquets and wooden beads add
to the artful juxtaposition of elements. Beads & Pieces' handcrafted and
socially responsible origins are apparent in its design. The ceramists'
workmanship is seen in the graceful curves of the black ceramic, a traditional
Peruvian pottery technique. Some motifs from the indigenous Shipibo tribe are
also incorporated into the beading.." ~Artecnica
The
last three chapters are:
1)
NEO
FIGUREINES
2)
TABLEWARE
3)
L'ART
POUR L'ART (which includes Hans Van Bentem M16 crystal chandelier – had to
throw that in)
Get
the book (it may be available through your public library). It is fascinating,
inspiring, at times creepy or just plain funny, but well worth the time to sit
in your comfy chair and read.