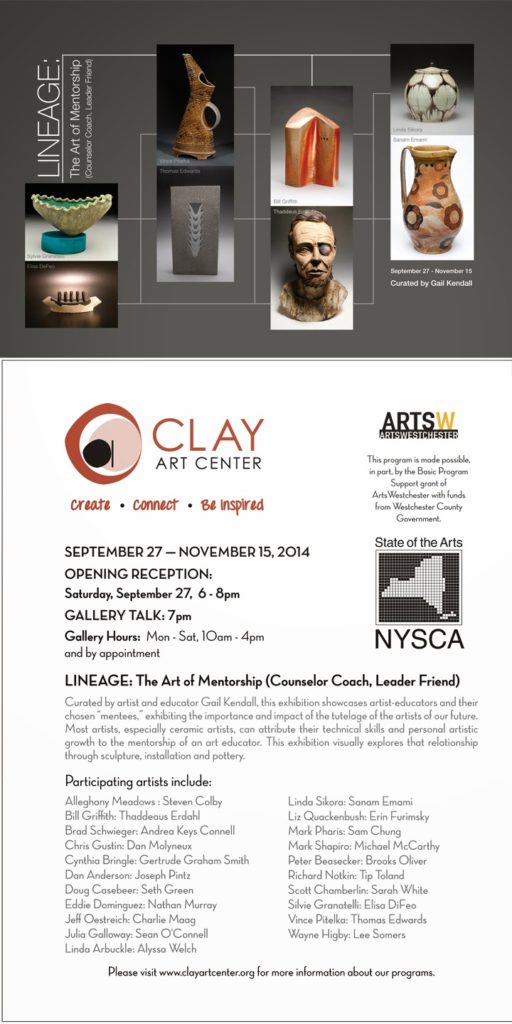 Clay Art Center is pleased to present Lineage: The Art of Mentorship,
curated by artist and educator Gail Kendall, this exhibition showcases
artist-educators and their chosen protégés, exhibiting the importance
and impact of the tutelage of the artists of our future. Lineage: The
Art of Mentorship highlights work by Artists from both in and out of
academia as both have had a profound impact on clay culture.
Mentorship,
while similar to teaching, is a closer relationship than that of the
classic student/ teacher connection. The protégé is more than a student;
the mentor is more than a teacher. Mentors experience value or,
MUTUALITY, when they interact with their partners. The relationship
demands boundary crossings, thus: counselor, coach, leader, and friend.
*check out our website to find out more about these accomplished artists and their mentor/protégé relationship
Selected
Artists were chosen because of their mastery in the field of ceramics-
not only in objects and ideas, but in the generation of other artists.
Each artist in turn invited an artist with whom they feel this strong
connection.
In conjunction with the exhibition Lineage: The Art of Mentorship, Clay Art Center would like for you to tell us about your mentorship relationships. We will post video, audio and written submissions on our blog. Selected submissions can also be viewed in our gallery in an evolving compilation.
We look forward to hearing from you!
Clay Art Center wants to know:
• 1) Who is your mentor?
• 2) What did you learn from you mentor?
• 3) How did you take it into your future?
• 4) How was this significant to you?
• 5) Are you a mentor now?
Submit:
• Instagram: short videos and images. Tag clayartcenter and use hashtags #lineagetheartofmentorship #clayartcenter, #lineage
• Facebook: comment on Clay Art Center's page with images and text using hashtags #lineagetheartofmentorship #clayartcenter #lineage
• Blog: leave comments here
• Email: caitlin@clayartcenter.org
• In person in the Gallery: in writing or using our iPad to record video
Lineage: The Art of Mentorship opens in Clay Art Center's Gallery on September 27 and runs through November 15, 2014.
Each participating artist has supplied us with some text to describe their relationship. You can purchase a compile booklet of this Lineage road map in the Gallery beginning opening night. Participating artists range from emerging to established in their careers, are listed in pairs of invited artist with their chosen protégé and include:
• Liz Quackenbush : Erin Furimsky
• Linda Arbuckle : Alyssa Welch
• Scott Chamberlin : Sarah White
• Eddie Dominguez : Nathan Murray
• Brad Schwieger : Andrea Keys Connell
• Bill Griffith : Thaddeus Erdahl
• Linda Sikora : Sanam Emami
• Jeff Oestreich : Charlie Maag
• Mark Pharis : Sam Chung
• Peter Beasecker : Brooks Oliver
• Dan Anderson : Joe Pintz
• Silvie Granatelli : Elisa DeFeo
• Mark Shapiro : Michael McCarthy
• Julia Galloway : Sean O'Connell
• Doug Casebeer : Seth Green
• Alleghany Meadows : Steven Colby
• Vince Pitelka : TJ Edwards
• Cynthia Bringle : Gertrude Graham Smith
• Richard Notkin : Tip Toland
• Chris Gustin : Dan Molyneux