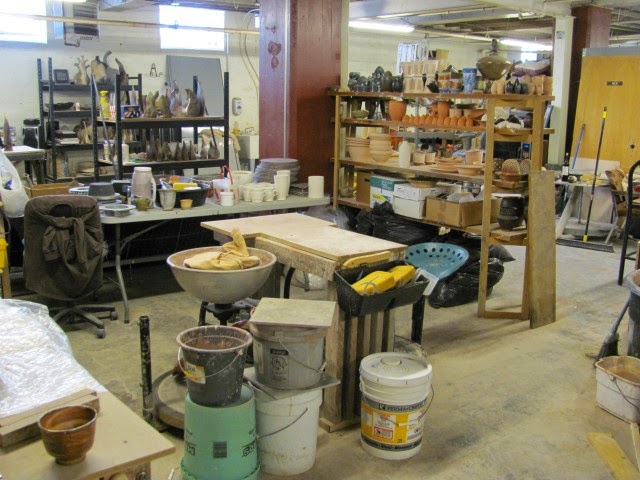 The Ceramic Center located in the beautiful NewBo area, in Cedar Rapids Iowa, is looking for a Resident Artist to begin on January 5th, 2015. Applications are due November 5th, 2014.
The
purpose of our unique program is to provide emerging ceramic artists
with an environment – the space, facilities, time and professional
interaction – that will foster and further develop their ideas, skills,
abilities and focus as ceramic artists.
The
Ceramics Center can accommodate up to six Resident Artists. Residencies
are typically for a 12 month period of time. Longer or shorter terms
can be negotiated as necessary and appropriate.
Each Resident Artist Will Receive
• A personal work space
• 24/7 access to the facilities
• Free enrollment in all special workshops and seminars, space permitting
• Access to ceramics professionals in the area for consultation and feedback
• Clay, glazes and personal glaze chemicals at a reduced cost and unlimited use of our kilns at no cost.
• Opportunity to teach a variety of classes at the Center
*Housing, food and travel are not provided to the Resident Artist.
To apply please provide us with the following documents:
10-20 Digital Images of recent work, formatted as individual images AND as a Powerpoint Document.
Artist's Statement (Word Document or PDF)
Statement of Artistic and Personal Goals for your Residency (Word Document or PDF)
Resume
2 Letters of Recommendation, on official letterhead, MAILED to the Ceramics Center.
For mail, send this form and supporting documents to:
The Residency Review Committee
THE CERAMICS CENTER
329 10th Avenue, SE, Suite 117
Cedar Rapids, IA 52401
For further information about our center or our current RA's please visit