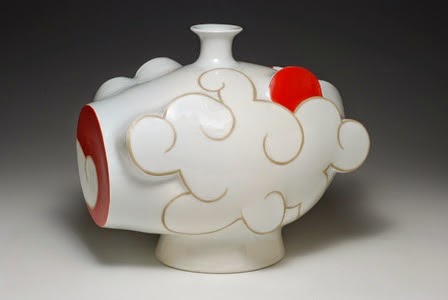 Join us on First Friday, November 7th, from 6-9pm for a reception with our guest artist Sam Chung. The exhibition "Skyscapes" will be on display during Denver Art Week, and through January 2015.
PLEASE NOTE OUR GALLERY HOURS FOR NOVEMBER!!
We will be closed Nov. 16-28, reopening on Saturday Nov. 29. We wish you all a wonderful Thanksgiving Holiday!
Sam Chung
comes to Plinth from Arizona State University where he teaches ceramics in the Herberger College School of Art. Using drawing as a basis for developing
form, Chung develops templates to define the clay parts. Then, using
both wheel and hand building techniques, combines the parts into complex
forms. His vessels reflect both historical and cultural references. Sam
Chung's vessels, be they teapots, containers or tableware are
thoughtful, well designed and impeccably made.
"I am interested in the way pots have the
unique ability to serve a multitude of roles and functions. They can
exhibit decorative beauty, bring attention to more functional or tactile
concerns, and also create historical, cultural and experiential
associations. I work within the context of pottery to exploit its
universal familiarity and impose my own vision for merging historically
and culturally disparate influences. I am curious about the
relationships I see among various forms of creative expression from both
past and present, and try to bring forth a new language of pottery for
the future."
Then, join us for our First Friday opening reception with Sam as we kick off
Denver Art Week
on Nov. 7, from 6-9pm. This event is also free and open to the public and we hope you can join us!
Workshop:Sam Chung
ONLY 3 SPACES LEFT!! On November 8-9, from 9am-5pm, Plinth Gallery will host a two-day workshop with ceramic artist Sam Chung.
This workshop will focus on the process of
making shapes by altering wheel-thrown forms, and by assembling
slab-built forms designed from paper templates. Both techniques will
use drawing as a design tool for developing form. Discussion will focus
on development of ideas for pottery form in relation to history,
context, function and design. Additional discussion and demonstration on
the application of China paints to integrate surface decoration and
imagery with form will be presented.
Cost: $265.00 includes all materials and lunch both days.

3520 Brighton Blvd.
Denver, CO 80216
(303) 295-0717