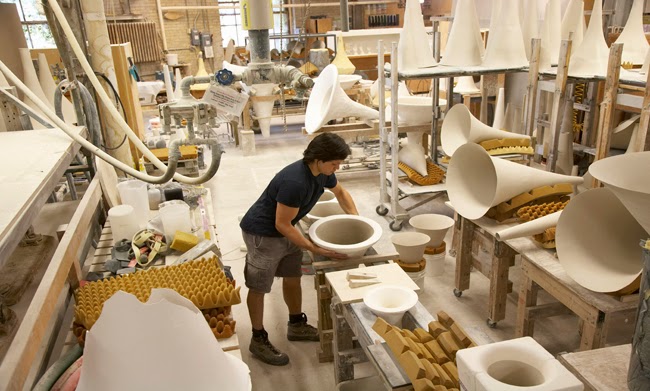 PROGRAM DESCRIPTION
Apply for the Arts Center's world-renowned Arts/Industry residency
program! Up to sixteen exceptional artists from around the world are
chosen each year for two- to six-month residencies in the Pottery or
Iron/Brass Foundry and Enamel shop in Kohler Co.'s Kohler, Wisconsin,
plant. With the guidance of an excellent staff, artists of all
disciplines can explore new ideas and technologies in order to create a
body of work impossible in their own studio as well as new ways of
thinking and working. Previous experience with clay or metal sculpture
is not required.

Artists
accepted into the program receive housing, transportation, materials,
use of equipment, studio space, photography services, and a small
stipend. Artists-in-residence may work in the Kohler Co. Pottery, Iron
and Brass Foundries, and Enamel Shop to develop a wide variety of work
in clay, enameled cast iron, and brass including but not limited to
murals and reliefs, temporary or permanent site-specific installations,
and functional and sculptural forms.
Applications
are now being accepted for the 2016 program year. Applications are
accepted through the Café Call for Entry site only. Click here to begin your application. The application deadline is April 1, 2015.
Required Application Materials
20 images of your strongest work
A resume or CV
Project proposal of 200 words or less accompanied by proposal images
List of four professional references
For more information on the application process, please contact the Arts/Industry coordinator at (920) 694-4548.
http://www.jmkac.org/index.php/artsindustry-residency/application-process