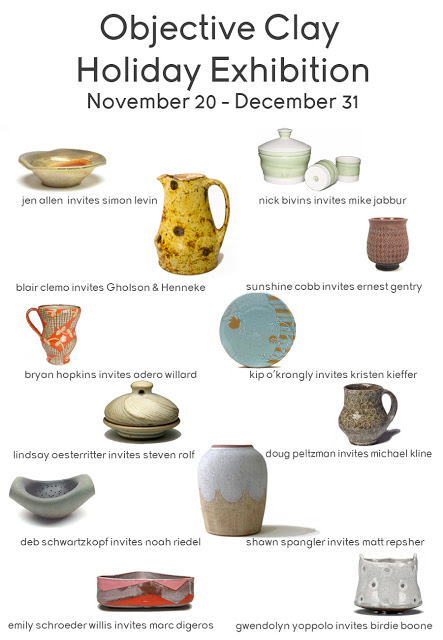 Wahooo! Guest Artists!
We know you will enjoy everyone of our
selected guest artists
.
It is a pleasure for us to share their work with you! The Holiday Sale goes live November 20th @ 12 Noon EST!
Bulldog Pottery
,
Steve Rolf
,
Birdie Boone
,
Kristen Kieffer
,
Michael Kline
,
Marc Digeros
,
Simon Levin
,
Adero Willard
,
Matt Repsher
,
Ernest Gentry
,
Mike Jabbur
, &
Noah Riedel
As
our collective of potters continues to work together I am touched by
the amount of thought and effort each member gives to the group! It has
been a great first few years defining and growing Objective Clay. We
look forward to sharing more with you and each other as we develop our
work and our strength as a group. We hope you enjoy the informative
articles on
our blog
, music
play lists
, and regular featuring of
objective clay potters
!