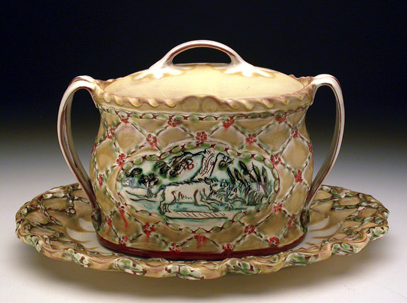 Residency: January – February 2016
Artist lecture: January 19, 2016

Join
us in welcoming McKnight Residency recipient Kathryn Finnerty, who will
be with us in January and February, 2016. Finnerty was invited to the
McKnight Residency program through a nominative process involving past
resident artists and other leaders in the field of ceramics. While in residence, Finnerty will provide a free lecture about her work on Tuesday, January 19, at 6:30 pm in NCC's Library.
Finnerty's
work draws inspiration from 19th century English pottery, particularly
Victorian majolica, with classically inspired designs, raised-line
relief, and sprig and sgraffito images. Her current body of work is
evolving through an "abstracted landscape narrative," and involves
larger, slab-constructed vessels; her use of bright, harmonious colors
is evident throughout.
Kathryn Finnerty has owned Pleasant Hill
Pottery in Eugene, Oregon since 2000, where she also teaches at Lane
Community College. Finnerty has recently had solo exhibitions at
Schaller Gallery and Red Lodge Clay Center. She has contributed to many
other exhibitions, including at Santa Fe Clay, LUX Center for the Arts,
James Renwick Alliance of the Smithsonian American Art Museum, and the American Pottery Festival at
NCC. Her work is carried by AKAR Gallery, Pewabic Gallery, and The Clay
Studio Philadelphia, and several others. Finnerty's exquisitely
decorated surfaces have been featured in Making Marks: Discovering the Ceramic Surface (Robin Hopper, 2004) and others, including 500 Teapots (vol. 1, 2002, and vol. 2, 2013) and 500 Pitchers (2005).
We hope you will join us January 19 for this lecture, and to welcome Kathryn Finnerty to NCC! Refreshments will be provided.
This
program is sponsored by the McKnight Foundation and reflects the
Foundation's interest in supporting outstanding individual ceramic
artists who have proven their abilities, and are at a career stage that
is beyond emerging.
Northern Clay Center
2424 Franklin Ave East
Minneapolis, MN 55406