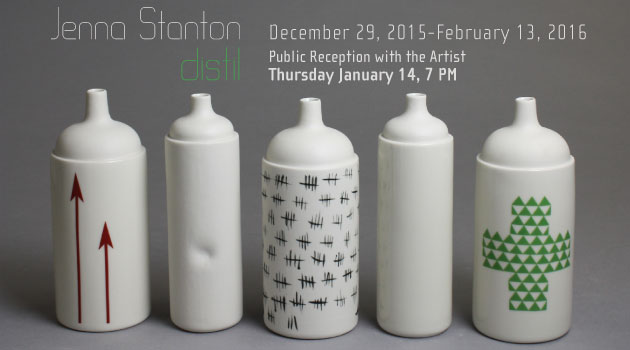 Ceramist
Jenna Stanton has salvaged and saved favourite domestic objects for as
long as she can remember. The forms and functions of these objects and
the nostalgic sentiments around them work their way into her
contemporary practice, into practical, clever and elegant designs for an
array of ceramic household vessels and accessories. The porcelain
desktop water decanters with silkscreened enamel decals and hand-painted
underglazes in her Pour Me series are inspired by vintage thermoses and
historic Medalta whiskey jugs, with patterns humorously referring to
the practice of self-medicating. Other works utilize 3D printing
processes in their design stages, while still others explore the
opportunities suggested by crystalline and fractal geometries translated
into dishware which can iterate and conjoin into infinity.
Stanton holds a BFA in Ceramics from the Alberta College of Art &
Design and a Masters in Ceramic Design from Staffordshire University in
'the potteries' of Stoke on Trent, England. She currently works out of
her studio in Medalta's international artists in residence, exploring
ceramics that combine traditional craft with industrial processes and
new technologies. She is the Curator of Exhibitions and Collections at
the historic Medalta Potteries, and a member of the board of directors
of the Alberta Craft Council. Her designs have been exhibited nationally
and internationally, most notably in FRESH, the 2011 British Ceramics
Biennial's flagship exhibition of top 40 emerging UK graduates, the
London Design Festival 2015, and with FLUX at Maison Object Paris.