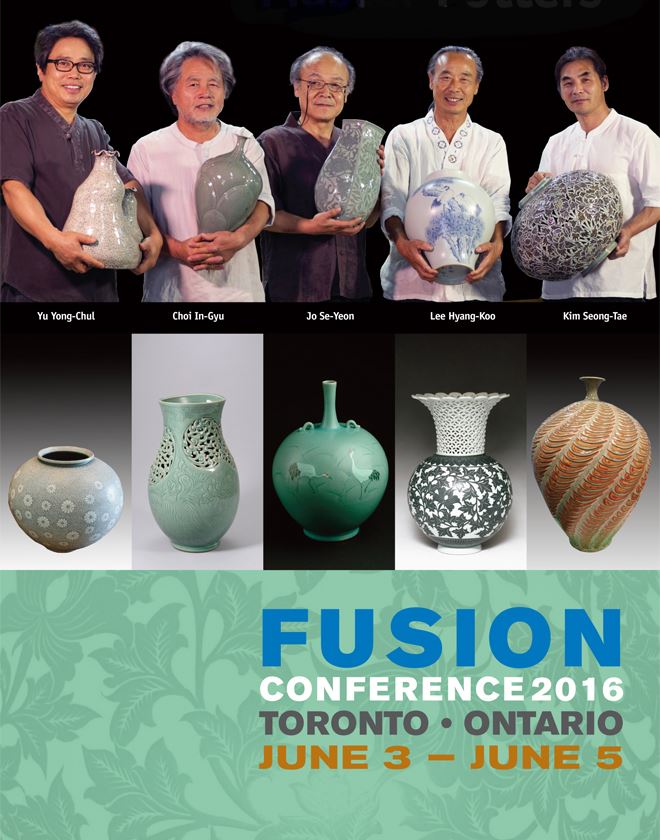 June 3 – 5Chestnut Centre, University of Toronto
89 Chestnut Street, Toronto, ON M5G 1R1
www.clayandglass.on.ca

FUSION is proud to present five Korean Master Potters from Icheon City, South Korea. Please join us for an inspirational weekend of hands-on workshops and presentations delivered by the Masters.
You may know them from the video that has been circulating on Facebook and YouTube: "5 South Korean Ceramic and Pottery Master Craftsmen, Show Off Their Skills." Watch it here: https://www.youtube.com/watch?v=6T7WOECCCRY With over 400,000 views, these incredible artisans have become an internet sensation. FUSION
is bringing them to Toronto to present a weekend participatory workshop
where they will teach their forming and decorating techniques.
This
year's workshops include unique tools from Korea for you to keep. Each
participant will also be provided with sample pieces on which to explore
the techniques demonstrated.

For more information about the Korean Masters: CLICK HERE

For accommodation information: CLICK HERE
Map of area and parking information: CLICK HERE



About FUSION Conferences
Every June, FUSION's Annual Conference and Annual General Members Meeting are held in various major centres throughout Ontario. Conference attendees get a full slate of exciting events:
Presenters who are renowned experts in their fields
All inclusive registration fees (including lunch and snacks)
Discounted early-bird rates + prize draws = added incentive to reserve your spot early
Varied, event-packed Conference schedule
Hands-on Workshops
Reduced rates on accommodation
Prizes offered throughout the Conference weekend
Suppliers' presentations with special discounts
Dinner and other special events
Exhibition and other local art exhibits
Silent Auction
Annual General Meeting, including Volunteer of the Year Awards
Time off to enjoy local events and restaurants
FUSION wishes to thank our sponsors for their generous support