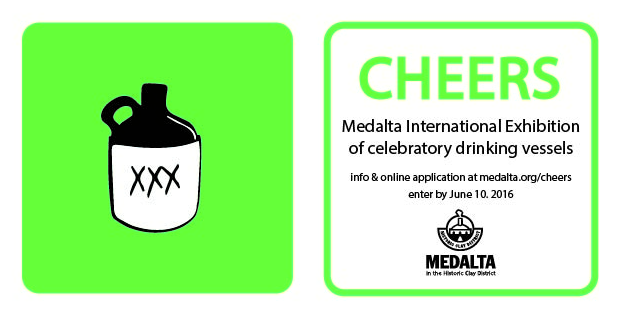 It's that time of year again, our fourth annual call for entry for
the Medalta International Exhibition. We are still switching up the
theme each year to keep things fresh… it started with cups… then
spoons … an ode to tools and now… CHEERS!


As we launch our call for entry on St Patricks' Day at NCECA, the national council for ceramic arts 50th
anniversary celebration we thought the theme of CHEERS was in order.
So, show us your celebratory drinking vessels.. cheers @medalta with the
perfect tumbler, whiskey set, coffee mug, teacup, stein, tea bowl,
growler, bottle, or flask. If your vessel is part of a celebration,
whether it's a perfect cup of coffee or a pint at the end of the day, we
want to see what you're celebrating with.
Successful applicants will be a part of this celebration of
contemporary drinking vessels from around the globe in CHEERS @Medalta
on display in our Yuill Galley from September 1st –November 30th 2016.
So who's our new Juror?! Well we are excited to have
a member of our extended Medalta family, Medalta Artist in Residence
Alum & Canadian Ceramic star Robin Dupont in as juror. Robin has
traveled the globe refining his practise & testing out a few
drinking vessels along the way in his research into functional
atmospheric fired ceramics.
" Cheers! It is said that the earliest origins of
'cheers' comes from the clanking of glasses to slosh or mix beverages to
prevent your companion from poisoning you. I prefer to think of the
action in the more contemporary custom of acknowledging an event, a
friendship, a bounty, a ritual of celebration.

The concept of celebration is at the core of handmade pots.
Making and using handmade pots is about slowing down and celebrating the
object, the ritual, the people, the food and drink.

I am excited to have been asked this year to jury the 4th
annual Medalta's International Exhibition CHEERS! This theme is
integral to our daily lives, in how drinking vessels can elevate a
ritual, stimulate a conversation or thought and function purely to
nourish our souls and selves.

So show us your celebratory vessels. "

Cheers!

Robin DuPont
We thank Robin for stepping up to the challenge & look forward to
working with him; he'll have the difficult task of narrowing down the
entries and selecting the prize winners. You can see more of Robin's
work at robindupont.com or on instagram.com/robindupontceramics
Speaking of Prizes! The GRAND PRIZE is a month long residency at Medalta with accommodation! We
can't wait to see what last year's winner of TOOL, Valerie Zimany,
creates in Medalta's studios during her July 2016 residency. Purchase prizes will be awarded for Medalta's contemporary collection. Student entries are eligible for Ceramic: Technical and Ceramic: Art & Perception digital subscription. And we're wrangling more prizes as we speak! Awards will be announced at the opening reception & on Medalta's Instagram. Artists do not need to be present to win.
Good luck to everyone who enters and thank you for your support! We can't wait to see your submissions.
Cheers!
Jenna Stanton
jenna@medalta.org
Curator of Exhibitions & Collections
Medalta
CHEERS SUBMISSION GUIDELINES:
Submissions to be completed online from March 17th to June 10th 2016. At www.medalta.org/cheers
Entry Fee: $20 Canadian. (for those of you in the US that's about $15 USD)
Online Submissions include up to 5 images of your finished work (Images: 1MB each) Along with title, description, dimensions, and a retail price in Canadian $.
Sets are eligible. A set must be photographed together in one
photograph and would count as 1 of your 5 entries. Sets are to be priced
and sold as a complete set; we will not offer individual pieces from a
set to be sold separately.
Front and back views are not required, but if you feel it's
necessary to properly convey your work using a front and back view then
using a side by side shot as one of the entries/uploads is recommended.
Artwork in the photos submitted must be available for the
exhibition. No substitutions. Medalta reserves the right to reject any
work that that differs from the original submission.
All work must be created in the past 2 years, and be for sale.
Submit retail prices in Canadian Dollars. Artists receive 60% commission
on artwork sold and will be paid via paypal email transfer after the
closing of the exhibition.
All work must be properly prepared for exhibition, be durable enough
to survive shipping and display, and come with assemblage
instructions/specialized hardware if applicable.
All selected artwork must arrive at Medalta no later than July 20th.
Artists are responsible for all shipping and insurance costs to deliver
the artwork to Medalta. Medalta will cover return shipping &
insurance for unsold artwork. All unsold work will be shipped back to
artists in January 2017. Work exceeding 18" or 10lbs in weight may not
be eligible for free return shipping.
Medalta reserves the right to use photographs, write ups, and images
and of accepted work for online and print publications and/ promotion.
Any questions regarding this exhibition can be directed to Medalta's Curator
Jenna Stanton
jenna@medalta.org
Curator of Exhibitions & Collections
Medalta