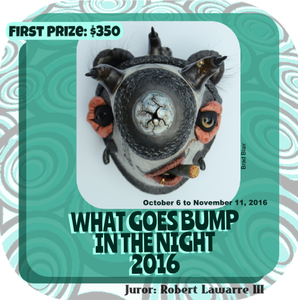 Las
Vegas Nevada's Clay Arts Vegas is pleased to host "WHAT GOES BUMP IN
THE NIGHT 2016" a national juried art exhibition, June 30 – August 28, 2016
in the Victor F. Keen Gallery, at Clay Arts Vegas in Las Vegas, Nevada.
"WHAT GOES BUMP IN THE NIGHT 2016" will feature works created from
mostly (80%) ceramic. Work should focus on the scary, bizarre, creepy,
eerie, dark, unexplained and frightening; Work can be sculptural or
functional.
Application Deadline: August 26, 2016
. Participation is open to all artists 18 years of age or older living
in the United States and Canada. Work submitted must be original, must
use clay as the primary material, must specify firing technique(s) and
size, and must have been completed within the last 2 years.
Jurors:
Robert Lawarre III
First Prize $300
Second Prize $100
Prospectus: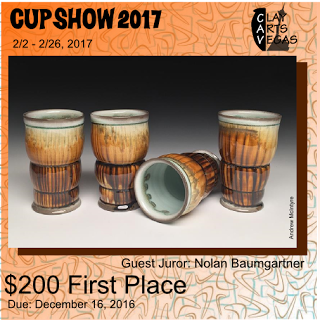 The
cup maybe the most intimate of ceramic objects. We caress it in our
hands, raise it to our delicate lips and imbibe the fluid of life. Be
part of our first juried show of 2017 and have your cup seen in Las
Vegas. Tall, small,tea bowl or handle each cup is a work of art created
to entice the soul of the drinker. Guest Juror is Nolan Baumgartner with
CAV's Peter Jakubowski. Entries need to be received by 12/16/2016. Best of show cash award $200. Show runs February 2 till 26 2017. entry Fee $35 for up to 3 entries $10 additional entries up to five total
www.clayartsvegas.com
for prospectus application and payment
Juror Nolan Baumgartner
First Prize $200
CLAY ARTS VEGAS, LLC
CLASSES | GALLERY | CERAMIC SUPPLIES
1511 S Main Street | Las Vegas | NV | 89104