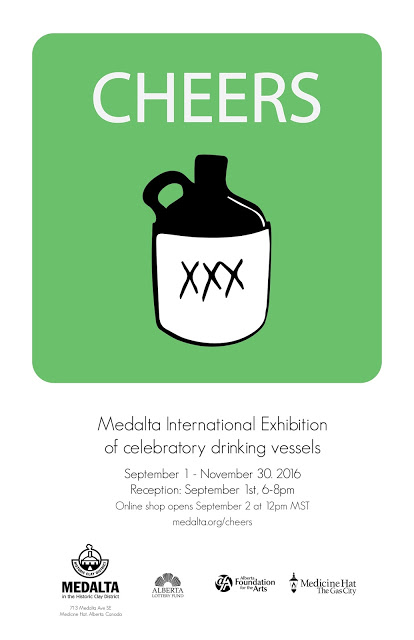 Cheers @ Medalta
September 1st– November 30th, 2016.
Medalta's Yuill Family Gallery
Opening Reception- Thursday September 1st 6-8pm
We are excited to share our Medalta International Exhibition, "Cheers @ Medalta,"
with you! This year, as we launched the call for submissions on St.
Patrick's Day at NCECA's (National Council on Education for the Ceramic
Arts) 50th anniversary celebration, we felt there was no better theme
than celebratory drinking vessels!
It
has been great to see so many varied submissions from around the world
in ode to celebratory drinking vessels. In the end we had over 430 works
submitted which our juror, Robin DuPont, had the difficult task of
narrowing down into 140 pieces for the exhibition. Along with jurying
the exhibition, Robin will be selecting the grand prize winner of a month long residency at Medalta with accommodation!
If you can't make it to the reception join Medalta on Instagram, where we will be posting live from the opening and announcing the grand prize and purchase prize winners.
The
International Exhibition is one of our biggest and most anticipated
exhibitions of the year, and this year will be no exception. The
celebratory drinking vessels we have received from all over the world
are a must see, and the best part is… if you see something you like,
it's yours to purchase!
Online shop opens September 2nd at 12pm MST. medalta.org/cheers