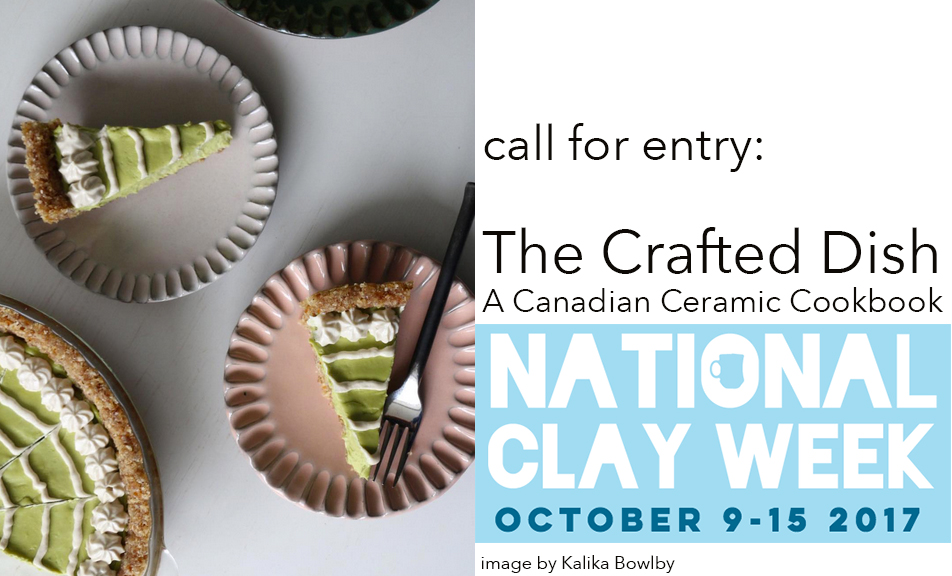 As part of National Clay Week 2017 we are looking for Canadian makers to share their pottery and favorite recipe to be showcased in a print publication that will be launched this October. Our aim is to highlight not only the wide variety of skills by Canadian Artists but also the wealth of culture and experience that makes Canada unique. Beyond highlighting the ceramic talent that exists across Canada, the proceeds from this cookbook will be donated to food based charities in Canada.
National Clay Week in its second year, is focusing on Community,  and we are aiming to push for a dramatic Canadian presence as part of the event. We are partnering with them to create a publication that will be available for online order in October 2017, and a subsequent website and social media accounts will be established to promote all of the artists involved. Please check out their website for more information and additional ways to get involved.
Jurors: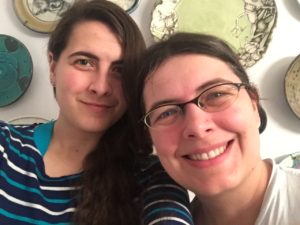 Julia and Yolande Krueger: Sisters Julia and Yolande Krueger come as a pair. They both attended the Alberta College of Art + Design and have collaboratively published essays on Canadian glass. Their love for baking, sweets and ceramic plates have led them to explore a new recipe on a weekly basis. The baked results are paired with a ceramic work from their collection and subsequently shared with their friends, co-workers and family.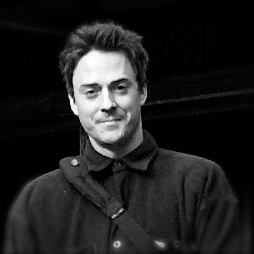 Christopher Reid Flock: Reid is often known for his installation work that draws heavily from his ceramic education in Japan for nine years.  He has exhibited internationally and is the 2014 recipient of the Winifred Shantz Award in Canada. He is also highly active and community minded as seen in his involvement as the Director of the FUSION Clay and Glass Show, the Director of Programs at the Hamilton Potters Guild and Chair of the Art Gallery of Burlington Acquisition Committee. Through a pure love for food, Reid enjoys preparing dishes for others as much as devouring every last plated morsel.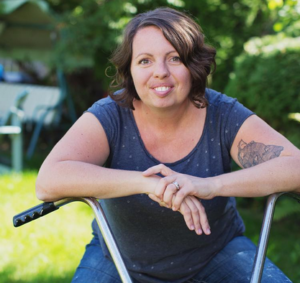 Carole Epp: Epp is known for her long standing blog Musing about Mud. She has exhibited her ceramic art internationally, and has significant experience as a writer, workshop presenter, and is an all around ceramic addict who lives and breathes art to an unhealthy extent. As for a love of good food, well that goes without saying, especially if she doesn't have to cook it herself.
Deadline to get your images and info in is June 10th at Midnight.
Please fill out the following Application Form. Have all your text and images ready to go when you begin this process to avoid any complications.
Applications will consist of the following:
1 – Artist's name:
2 – Email address:
3 – Website:
4 – Social media/Instagram account:
5 – Four images:
Image of your work.
Image of your pot in use with recipe.
Image of studio or work in process.
Portrait of the artist – art work or casual.
Title each image with under this format: SmithJohn01.jpg and so forth.
Image quality – Minimum size is 300dpi (6in x 6in). These images must be print quality and thus applications with images that don't meet this requirement cannot be considered.
6 – Family Recipe with directions (you must have permission to share this recipe).
Please use Imperial measurements (cups, teaspoons, etc.).
7 – Up to 60 words about the family recipe (this might get edited for length).
8 – Up to 60 words about you and your work (inspiration/process etc.).
Images l-r top: Mariko Paterson, Christopher Reid Flock, Carole Epp
Images l-r bottom: Carole Epp, Friederike Rahn
Please contact us at canadianceramics@gmail.com prior to that deadline with any questions or concerns.
And follow us on instagram @TheCraftedDish