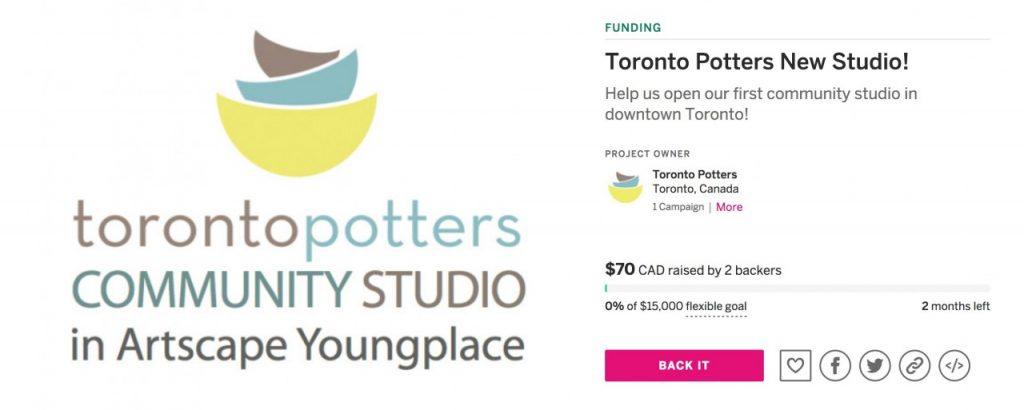 A Home after 40 years!
Imagine a non-profit arts association which provides its members with community, networking, education and public representation opportunities – all without a physical space – for 4 decades! No more! In October of 2018, Toronto Potters is setting up a studio in Artscape Youngplace, a clay-hub in the heart of downtown Toronto!
This 1000 sq. ft. space will offer individual artists the opportunity to focus on their work. It will allow Toronto Potters to host artists' workshops, presentations and engage with the local community through classes and programming.
What We Need:
We are fundraising $15,000 to cover the studio start-up expenses. Our volunteers are collecting donations of tools and materials, but we need financial support to assist with the expenses of additional equipment and skilled trade services needed to set up the studio, first and last month rent deposit and materials to begin running classes. With your generosity, once the studio is up and running, Toronto Potters will be able to sustain this endeavour by generating income from studio memberships, workshops and classes.
The budget:
$7000 rent (first and last month deposit)
$750 Shelving
$750 Worktables
$2500 Electrician, Plumbing & Carpenter services
$1250 Kiln rewiring to 208volt
$500 Glazes for Classes
$500 Clay for Classes
$150 Small Tools for Classes
$800 Indiegogo Fee
$800 Transaction processing fees
TOTAL: $15,000
Find out more here: www.indiegogo.com/projects/toronto-potters-new-studio#/  and here: torontopotters.com