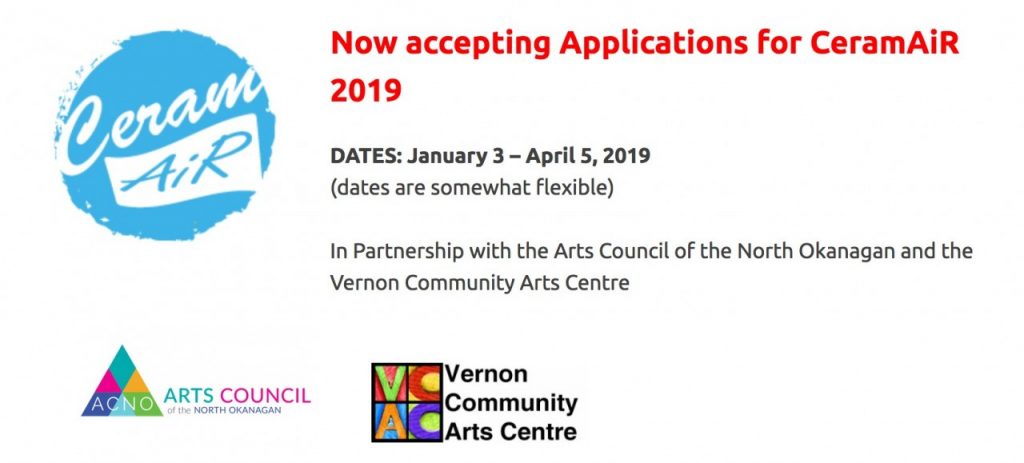 Link to View Current and Past Projects Here
Applications are accepted on-line only – Apply Now
Application Process
Open to emerging and established visual artists in ceramic or overlapping interdisciplinary practices. Applications are accepted on-line only. Please Contact Us if you need assistance or experience any difficulties.
Please note: Staff are only available limited hours during weekdays. Winter Hours: Monday-Friday 9am-1pm.
Dates/Deadlines
Please note that dates are tentative and may change slightly
Deadline to Apply for 2019: November 4th, 2018
Successful applicants will be notified November 16th, 2018
Residency: January 4th – April 5th (dates are flexible) 2019
Solo exhibition: resident will have a show during the last week of their stay.
Apply here (Applications are accepted online only)
Download the CeramAiR_GUIDELINES_March2017
NOTE TO ALL INTERNATIONAL APPLICANTS: Please ensure that you apply far enough in advance and that you are able to travel, have visas and passports in order and are able to accept a residency for the dates specified prior to making application.
Full details here: www.caetani.org/ceramair-ceramics-residency/