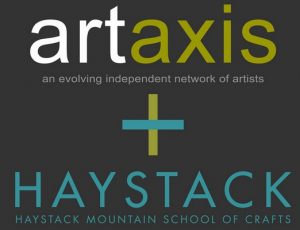 We are happy to announce the Call for Applicants for the 4th annual Artaxis Fellowship. This year, we will again be offering two fellowships, each one worth up to $2,000, to fund a two-week summer workshop in ceramics at Haystack Mountain School of Crafts. The fellowships will cover room, board, and tuition for a two-week workshop, and up to $500 for travel to and from Haystack Mountain School of Crafts in Deer Isle, Maine, USA.
The Fellowship is intended to increase diversity, equity, and access across the field of the ceramic arts. In particular, attention will be paid to race, gender, sexual orientation, and socio-economic status, but unique circumstances such as wartime military service, medical conditions, and unconventional family structures will also be considered. Therefore, Artaxis encourages artists of diverse backgrounds and experiences to apply.
The 2019 Fellowship Selection Committee is comprised of: Morel Doucet, Janina Myronova, and Natalia Arbelaez. After an initial round of reviews by the Artaxis Board of Directors, our distinguished Fellowship Selection Committee will choose the final recipients for the 2019 Fellowship.
Eligibility:
Nominated by an existing Artaxis member. Members can nominate more than one applicant. (Artaxis members cannot apply)
Artists 18 years of age or older, at any stage of their career. Nominee does not need to be a student.
Artists must be able to demonstrate financial need and, if requested by the board, provide a copy of the first page of your most current tax return or other financial document.
The Fellowship is designed to offer an experience that would otherwise not be possible for the Nominee. To that end, any Nominee who has attended numerous workshops will not be considered "in need".
This Fellowship is open to National and International applicants. Artaxis will provide International applicants with letters of invitation, but cannot offer additional funding or support with acquiring a visa.
The 2019 Artaxis Fellowship is supported by Artaxis members and funded by Haystack Mountain School of Crafts in an effort to nurture talent within creatively driven individuals by offering financial support to underrepresented artists.
If you have any questions, please email us at contactartaxis@gmail.com.