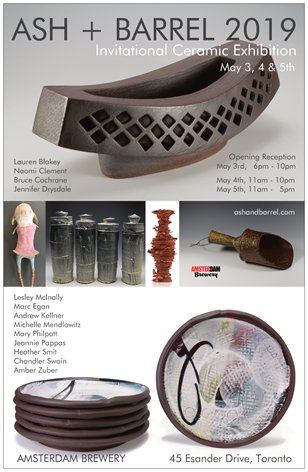 ASH + BARREL is an Invitational Exhibition featuring the celebrated craft of contemporary ceramic artists and makers from Southern Ontario. Organized by Andrew Kellner and Heather Smit, The show is a nod to our mentors and to raising a glass in the spirit of celebration. Opening Party hosted by Amsterdam Brewery. Join us in celebration Friday, May 3rd (6-10pm)
Make a toast, meet the artists and get first dibs on their newest work.
Line up: Lauren Blakey, Naomi Clement, Bruce Cochrane, Jennifer Drysdale, Marc Egan, Andrew Kellner, Lesley McInally, Michelle Mendlowitz, Jeannie Pappas, Mary Philpott, Heather Smit, Chandler Swain, Amber Zuber.
Website: https://ashandbarrel.com
Instagram: Ashandbarrel_invitational