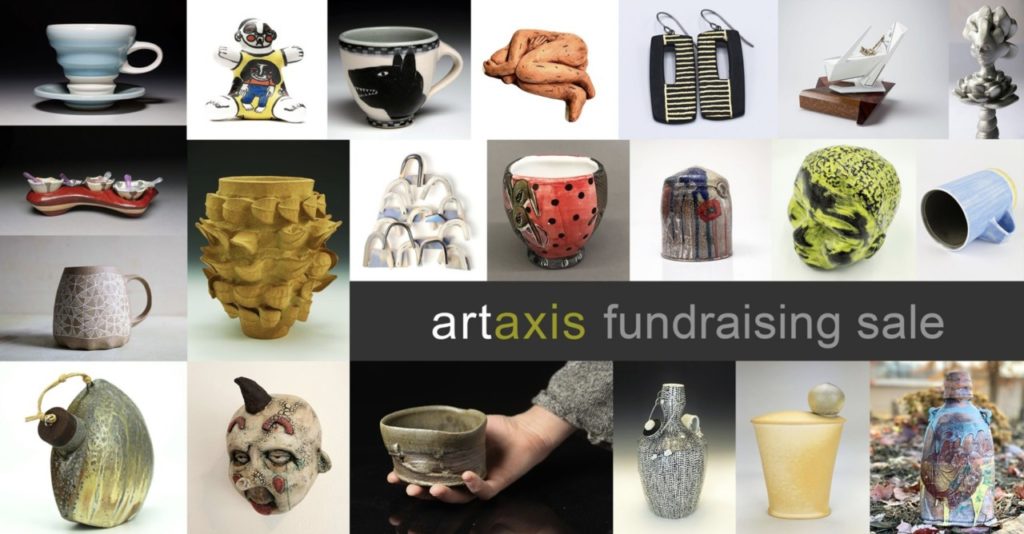 We're thrilled to announce the launch of our Artaxis Fundraising Sale! At 2pm EST on Tuesday Nov. 26th, the sale will go live at https://shopartaxis.org/. Over 100 works by Artaxis members will be available for sale and 100% of the proceeds from each sale will go to support our fundraising efforts.
Artaxis is a member-driven, all volunteer 501(c)3 non-profit arts organization. Featuring over 750 artists from 50 countries, Artaxis engages the ceramics community through promotional, educational, and networking programs while celebrating diverse artistic practices and being a resource of aesthetic values.
Works available during the fundraising sale by James Aarons, Ben Ahlvers, Avi Amesbury, Wesley Anderegg, Natalia Arbelaez, Mark Arnold, Posey Bacopoulos, Tom Bartel, Jamie Bates Slone, Hayne Bayless, Scott Bennett, Paul Briggs, Tom Budzak, Amanda Bury, Ryan Caldwell, Anna Calluori Holcombe, Seth Charles, Sam Chung, Mike Cinelli, Israel Davis, Lindsey Dezman, Kathy Erteman, Sydney Ewerth, April Felipe, Brock Flamion, Leslie Fry, Shamai Gibsh, Andrew Gilliatt, Blanca Guerra Echeverria, Brian Harper, Mike Jabbur, Samuel Johnson, Julianne Shibata, Margaret Kinkeade, Todd Leech, Simon Levin, Robbie Lobell, Linda Lopez, Emily Loehle, Tyler Lotz, Wade MacDonald, Ryan McKerley, Ian Meares, Melissa Mencini, Courtney Michaud, Brooke Millecchia, Oleksandr Miroshnychenko, Sara Morales-Morgan, Rebecca Murtaugh, Janina Myronova, Yuko Nishikawa, Richard Notkin, Kyounghwa Oh, Joe Page, Jarrred Pfeiffer, Justin Rothshank, Amanda Salov, Lauren Sandler, Phoenix Savage, Matthew Schiemann, Judd Schifman, Grace Sheese, Amy Smith, Mac Star McCusker, Linda Swanson, Anna Syarova, Judi Tavill, Shulamit Teiblum-Millar, Ian Thomas, James Tingey, Kwok-Pong "Bobby" Tso, Vidya Vijayasekharan, Jerilyn Virden, Sally Walk, Mikey Walsh, Casey Whittier, Adil Writer, and Lisa York.
Our fundraising is critical to the success of our mission, so your support is much appreciated!
Sincerely,
The Artaxis Board of Directors and Executive Director,
Brian Harper, Raheleh Filsoofi, Salvador Jiménez-Flores, Samuel Johnson, Didem Mert, Anthony Stellaccio, Kwok-Pong "Bobby" Tso, Adam Welch, Casey Whittier