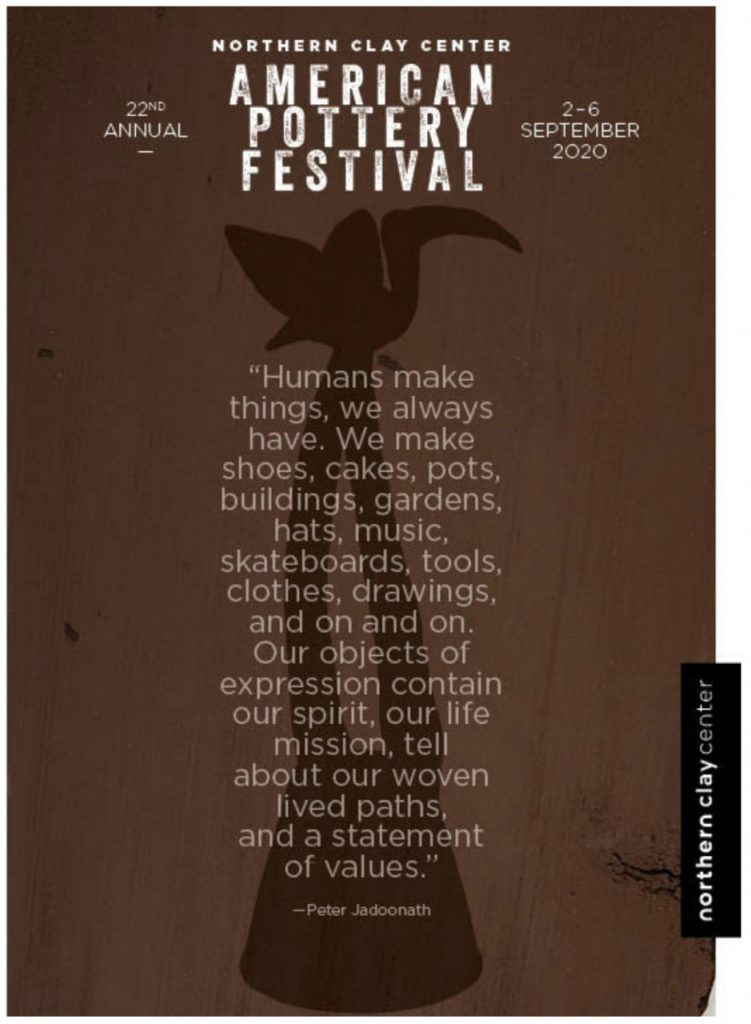 American Pottery Festival guest ceramic artists from across the country will illuminate and celebrate the honor in, and value of, the millions of ways to be and live and create in the U.S. This year, APF features a virtual conference and an exhibition and sale.
APF artists will offer weekday interactive virtual workshops and a full weekend of demonstrations, panels, and lectures, all with the opportunity to immerse yourself in their worlds and pose questions. In addition, everyone is welcome to join us nightly, Wednesday through Saturday, for evening social hours and artist lectures.
The festival is a five-day opportunity to choose from an array of finely-crafted objects from engaging artists, available for purchase both in-person with ticketed gallery appointments and online.
Learn more and get tickets: https://www.nccshop.org/american-pottery-festival
American Pottery Festival 2020 Invited Artists include:
Ashley Bevington, Patty Bilbro, Andy Bissonnette, Doug Casebeer, Pattie Chalmers, Amanda Dobbratz, Justin Donofrio, Sanam Emami, Brett Freund, Stuart Gair, Guillermo Guardia, Mike Helke, Peter Jadoonath, Randy Johnston, Bill Jones, Kathy King, Forrest Lesch-Middelton with Arash Shirinbab, Jordan McDonald, Catie Miller, Ronan Kyle Peterson, Tricia Schmidt, Mike Tavares, Sandra Torres, Daniel Velasquez, Kurt Brian Webb
WORKSHOPS:
Doug Casebeer & Randy Johnston: Between the Idea and the Making
Thursday, September 3, 9 am – 5 pm
Friday, September 4, 9 am – 4 pm
This workshop is a rare opportunity to spend uninterrupted (virtual) time with internationally-recognized ceramic artists Randy Johnston and Doug Casebeer. They will focus on the exchange of ideas involved in making pots related to form and function with sculptural intention. This engaging and memorable workshop, filled with personal discussions about traditional and new ways of making, surface decoration, wood firing, soda firing, gas firing, and their relationship to contemporary ceramics, will come to you from their personal studios and is fully interactive.
Virtual Workshop price includes a Clay-Along Kit and bisque firing of pieces created during the workshop: $225
NCC Members and Educators: $200 | Students: $115
Virtual Workshop Only: $170
NCC Members and Educators: $150 | Students: $75
Kathy King: Unearthing Story – Friday, September 4, 9 am – 5 pm
Kathy King, ruler of the narrative vessel, invites you into her world full of texture, feminism, and critical perceptions. Her sensual carvings on utilitarian vessels work as a conduit to provoke impressions of gender, sexuality, and the influence of popular culture on the stories we believe. Journey with King as she demonstrates her vessels from conception, to creation, to carving. She will demonstrate her sgraffito and carving techniques and share the influence and crossover of printmaking and mixed media in her work. As you absorb her process, lean in to unfolding the story you have to tell, whether it be personal narrative or thematic perspectives, and explore profound ways to share and embody them through the physicality of clay.
Virtual Workshop price includes a Clay-Along Kit and bisque firing of pieces created during the workshop: $130
NCC Members and Educators: $115 | Students: $75
Saturday Virtual Workshop Session
Description
September 5, 10 am – 4 pm
All-day Virtual Workshop Pass: $45
NCC Members and Educators: $35 | Students: $30
To use your member, educator, or student discount, please email salesgallery@northernclaycenter.org or call 612.339.8007 during business hours.
10 – 11 am
Tippy Maurant chats with Patty Bilbro, Guillermo Guardia, Catie Miller, & Mike Tavares: Inside the Potter's Studio
We launch into our weekend of virtual demonstrations with our tradition of coffee and a behind-the-scenes dialogue between a talented cast of makers. There will be insights into the life and times of a studio artist, candid conversations about everything from failed kilns and challenges with the material, to studio realities and personal collections, to navigating this year's challenges through art. You are invited to listen to the stories behind the pots you love.
11:15 am – 12:30 pm
Ashley Bevington & Tricia Schmidt: Allusive Zoomorphism
Ashley Bevington and Tricia Schmidt will transform a wheelthrown form, Bevington through adding adapted features and lavish texture, and Schmidt through building embellished creatures onto and incising them into form. Discover the use of animals as symbols in their work that speak to their own personal experience and the human condition, and contemplate these connections in your own life.
1 – 2:45 pm
Sanam Emami & Forrest Lesch-Middelton: History Repeats Itself
Discover the historical and cultural influences and collaborations in Sanam Emami's deliberate patterns and Forrest Lesch-Middelton's intricate designs and poetry. Since both artists draw from Middle Eastern design, join them as they discuss this common thread and demonstrate the distinct sensibilities of their individual works. Emami will demonstrate her stencil and slip techniques and Lesch-Middelton his volumetric transfer process. This dynamic duo will leave you curious and craving a surface evolution of your own.
3 – 4 pm
Andy Bissonnette & Justin Donofrio: Ordering a Surface
Andy Bissonnette directs us to contemplate mysteries achieved by hand, and Justin Donofrio's rhythmic objects ask us to reflect on our relationship with the earth and ways we attempt to control it. Join them as they demonstrate their different approaches to designing and executing an ordered surface and the layered assembly and carving processes that serve the entrancing rhythms of their work.
https://www.nccshop.org/product/saturday-workshop-session/2712?cp=true&sa=false&sbp=false&q=false&category_id=164
Sunday Virtual Workshops
Description
September 6, 10 am – 2 pm
All-day Virtual Workshop Pass: $35
NCC Members and Educators: $25 | Students: $20
To use your member, educator, or student discount, please email salesgallery@northernclaycenter.org or call 612.339.8007 during business hours.
10 – 11 am
Catie Miller: Transfixing Transfers
Travel through layers of hand-drawn motifs, vibrant color, symbolism, and playful intention as Catie Miller demonstrates her illustrated surface transfer technique. Miller's fresh forms are as alluring as her ritualized process, and the inviting combination elevates our perception of everyday objects and recasts them as beloved home staples that contribute to and ground tradition. Be equipped to experiment with transfers of your own, better the marriage of form and surface, and be inspired to define a narrative language unique to the way you interpret the world.
11:15 am – 12:45 pm
Amanda Dobbratz & Mike Tavares: Earthenware and Extracurricular Activities
Join Amanda Dobbratz and Mike Tavares as they discuss their fondness of a common material and demonstrate their different approaches to earthenware. Stay intent as they bring forms to life and share conversations about influences in their work and how their creative energies overflow to other avenues like Tavares's Clay Siblings Project, Dobbratz's design work and teaching, and other arenas that inform or have grown out of their ceramic practices.
1 – 2 pm
Mike Helke, Peter Jadoonath, & Jordan McDonald: Endurance of the Object
Every object tells the story of an interaction with its maker. We will end our weekend together with a time of sharing and reflecting on a medium that captures and preserves moments in time and how the artist and object persevere and evolve together. Join Mike Helke, Peter Jadoonath, and Jordan McDonald as they casually build objects in tandem, share how their careers have adapted and grown over time, and how their making endures and is shaped by the unexpected turns of life. Chat with them about building successful pottery sales, career triumphs and failures, and the importance of the clay community as they together navigate a new way of making.
https://www.nccshop.org/product/sunday-workshop-session/2713?cp=true&sa=false&sbp=false&q=false&category_id=164
To use your member, educator, or student discount, please email salesgallery@northernclaycenter.org or call 612.339.8007 during business hours.
https://www.nccshop.org/product/doug-casebeer-randy-johnston-between-the-idea-and-the-making/2710?cp=true&sa=false&sbp=false&q=false&category_id=164