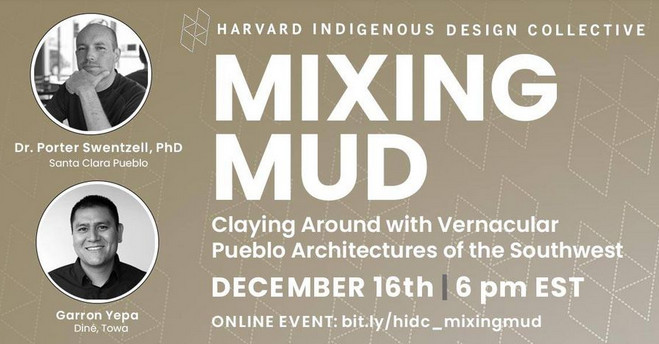 Mixing Mud: Claying Around Vernacular Pueblo Architectures of the Southwest
Mixing Mud: Claying Around Vernacular Pueblo Architectures of the Southwest featuring Garron Yepa (Towa, Diné) and Dr. Porter Swentzell (Santa Clara Pueblo)
"Mixing Mud" is a presentation on the ontology of Indigenous design and architecture of the Pueblo Tribes of the southwest.
Dr. Porter Swentzell, Ph.D., is from Santa Clara Pueblo, where he grew up participating in traditional life in his community and developed an interest in language and cultural preservation. He is the Associate Academic Dean, and Chair of Indigenous Liberal Studies at the Institute of American Indian Arts. Porter is a Regent for Northern New Mexico College and serves on several non-profit boards. He holds a PhD in Justice Studies from Arizona State University, a MA from Western New Mexico University, and a BA from Northern New Mexico College. Porter lives at Santa Clara Pueblo along with his wife and three children where he enjoys weaving traditional Pueblo sash belts in his free time.
Garron Yepa is Dine and Towa, born & raised in Albuquerque, NM. Currently residing and working in Santa Fe, Garron is an architectural associate with over 10 years of experience. He has worked on a wide range of projects including affordable housing, commercial interiors, hospitality, and preservation. He believes in culturally relevant design that is rooted in community. Garron is a board member of the American Indian Science and Engineering Society (AICAE), & continues to promote increasing Native enrollment in architecture, planning, & preservation programs.
Additional Resources:
· Dwellings: the Vernacular House Worldwide: https://amzn.to/3l6rNwq
· The Plazas of New Mexico: https://amzn.to/377V98x
· Native American Architecture: https://amzn.to/39beYhY
· Building Without Architects: https://amzn.to/39o00VI
· The Myth of Santa Fe: https://unmpress.com/books/myth-santa-fe/9780826317469
· Our Voices, Indigeneity and Architecture: https://www.oroeditions.com/product/our-voices/
Dec 16, 2020 06:00 PM in Eastern Time (US and Canada)
Register HERE.