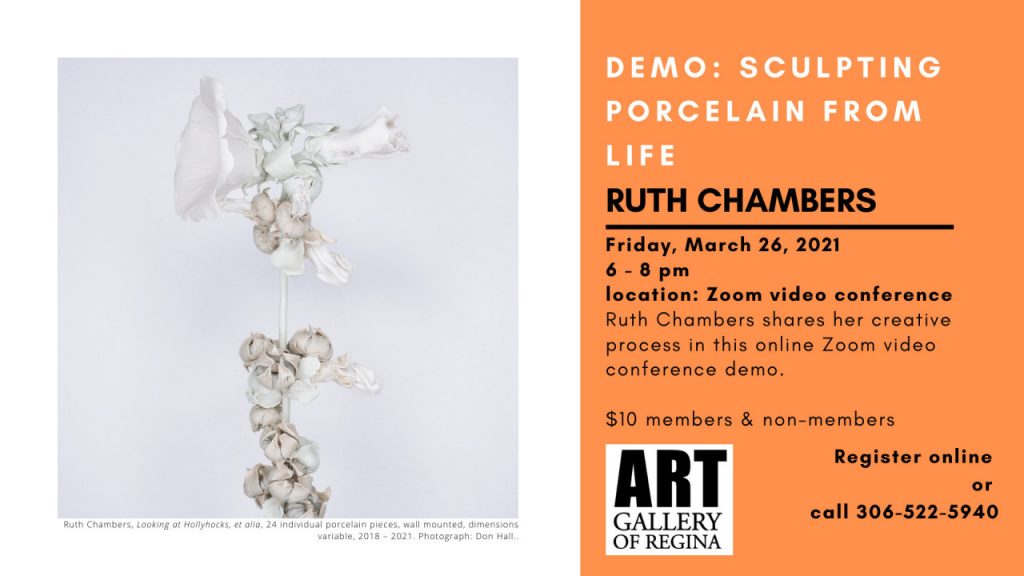 SCULPTING PORCELAIN FROM LIFE WITH RUTH CHAMBERS
Date: Friday, March 26
Time: 6 pm – 8 pm
Location: Zoom video conference
Fee: $10
Register ONLINE or call 306-522-5940
Ruth Chambers shares her creative process, rooted in minute and careful observation of bulbs and flowers at all stages in their life cycle in this online Zoom video conference demo. Watch as she delicately sculpts blooms and roots in porcelain, and glean insight into her unique approaches, such as working coloured porcelain slip into the clay body to tint her sculpted objects.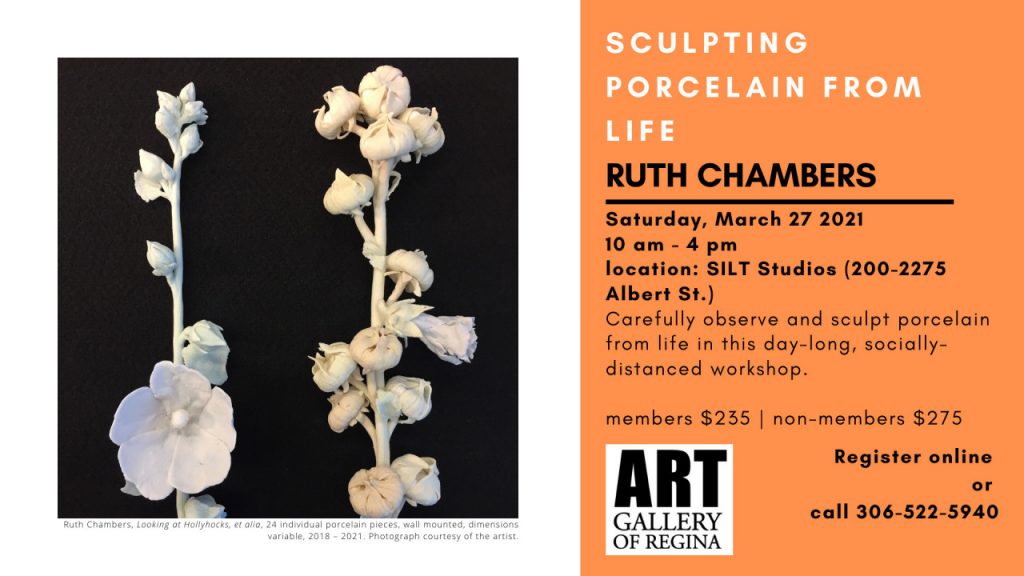 SCULPTING PORCELAIN FROM LIFE WITH RUTH CHAMBERS
IN-PERSON WORKSHOP
Date: Saturday, March 27
Time: 10 am – 4 pm (1-hour lunch break)
Location: SILT Studios, 200-2275 Albert St
Fee: $235 members, $275 non-members
Register ONLINE or call 306-522-5940
Observation is the foundation of creation. Professor Ruth Chambers invites beginner and experienced ceramic artists to carefully observe and sculpt porcelain from life conveying sensitivity, amplifying empathy for the still life subject, and appreciating the sensual tactility of this delicate material in this day-long workshop held at SILT studios.
Learn the specialized methods developed over years of experimentation developing a special formulation of porcelain that has delicacy and strength and is prepared in such a way that it is malleable and resilient enough to sculpt by hand.
Workshop fee includes specially-prepared porcelain and kiln costs to dry and fire participants' completed pieces. Pieces will not be glazed and re-fired, instead participants will learn how to colour their sculptures by incorporating stain pigments into the clay body itself.
Please observe social distancing protocols, wear a mask and follow sanitation procedures.
workshop offered in partnership with SILT Studio, Regina.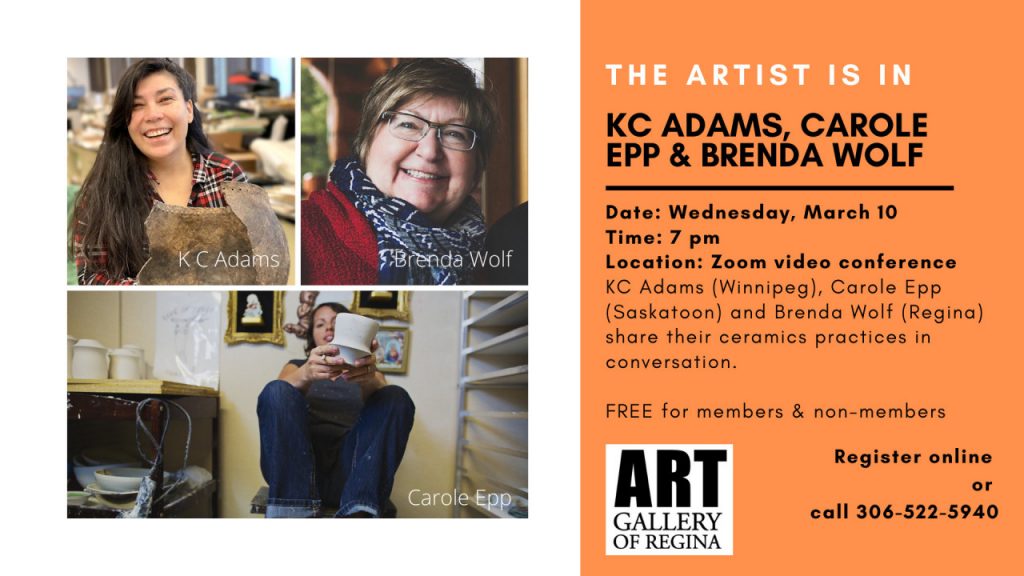 THE ARTIST IS IN
Date: Wednesday, March 10
Time: 7 pm
Location: Zoom video conference
Fee: Free
Register in advance for this meeting:
https://us02web.zoom.us/meeting/register/tZMscuusrTojEtaOnx3DRsrJdWs1mFdA8UmY
After registering, you will receive a confirmation email containing information about joining the meeting.
Get to know ceramic artists in your community! The Artist Is In is a forum for discussion featuring short presentations by artists about their work. The AGR has invited KC Adams (Winnipeg), Carole Epp (Saskatoon) and Brenda Wolf (Regina) to share their practices as they resonate or contrast with our scheduled main gallery exhibition, Tend, featuring a profusion of porcelain flowers and bulbs sculpted by Ruth Chambers.
Audience members are encouraged to ask questions following these presentations. AGR staff member Sandee Moore will direct questions to the panel as a whole and engage our Zoom audience in discussion about these artists' diverse and innovative approaches to this challenging medium.