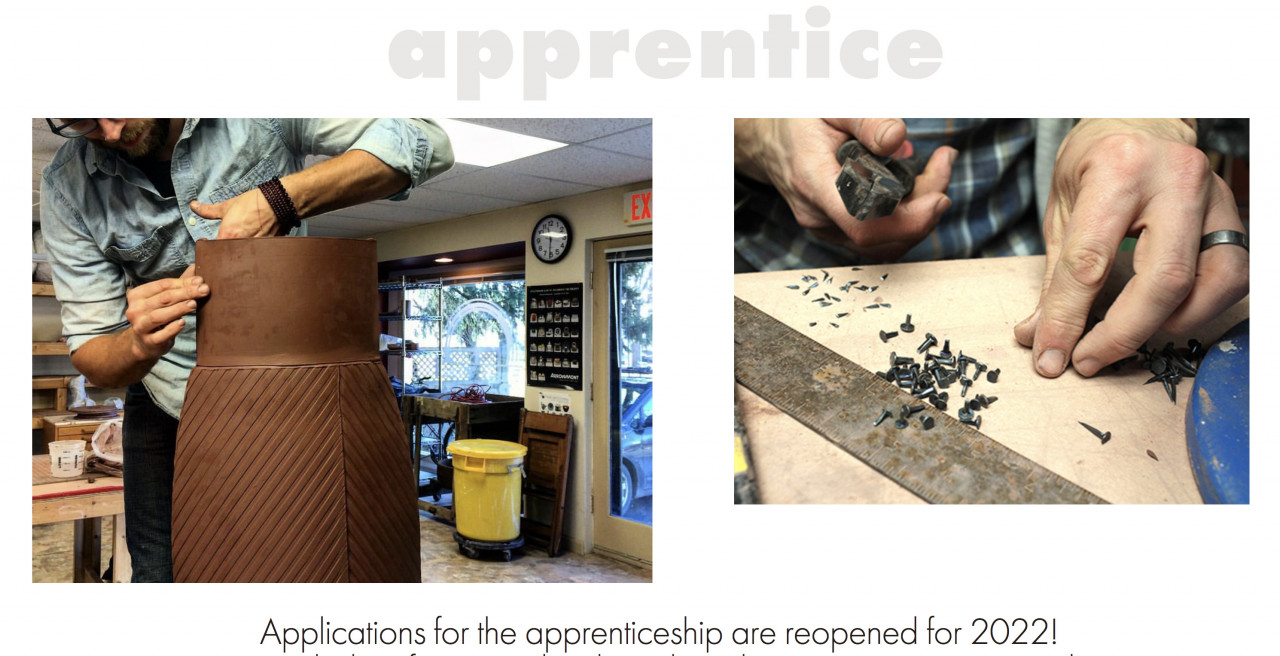 The Particulars:
In exchange for 18 hours a week of work around the studio you will receive 24 hour studio access to a 1500 sq. foot, lake front studio space, assistance with materials, access to kilns, critique and guidance on work/professionalism.  Work would include general studio upkeep, building projects, loading kilns, community projects, teaching opportunities, packing and shipping work, photographing work, website upkeep and general PR, assistance in my own studio practice, gallery retail assistance, customer service, scheduling and appointment maintenance, and programming development .  Housing is not included, though I do have connections to reasonably priced housing in the area. There are restaurants, coffee shops, etc. here in town for possible employment opportunities and Syracuse is only 20-30 minutes away containing many more options for both housing and employment. The studio will have a retail crafts gallery and foot traffic in town is steady, and selling work is available and encouraged if those options are fitting.
In March of 2022, Rusty Wheel Pottery will be making a move from its current location in Tully NY to Skaneateles NY, 20 miles to the west of Syracuse, occupying the space that Imagine Handmade, a family owned Handcraft gallery of 30 years currently lives, and will become Papavero Clay Studio, opening in April. I currently have 2 wheels, with plans to expand that, and plenty of hand building space.  Extruders, Slab Roller, Pugmill, Large and small electric kilns are all located in the studio. Semi-private studio space will be provided for the apprentice, will full studio access available at all times. I consistently have a number of Ideas and plans for the year, this particular year will be jam packed, and am looking for someone out there who is interested in helping these plans grow to completion and beyond.
Ideally, the right candidate will have a BFA or MFA in ceramics or studio art, and a solid command of clay, clays properties, and processes. Teaching experience and interest is a strong plus, as running classes in the studio will be necessary, and good hand skills should be evident in your work as I will be looking for assistance in the studio with my own work. I ask for a letter of intent, resume, two letters of recommendation, and a portfolio of your current work. All of these things can be emailed to me at jeremydrandall@gmail.com or mailed to Jeremy Randall C/O Rusty Wheel Apprenticeship, PO Box 698, Tully NY 13159. This will be a revolving application process and the position is currently open until filled.  Because you will be working closely with me, as well as with my family, I am taking this application process very seriously to achieve a great fit in all of these areas.
Full details can be found HERE.