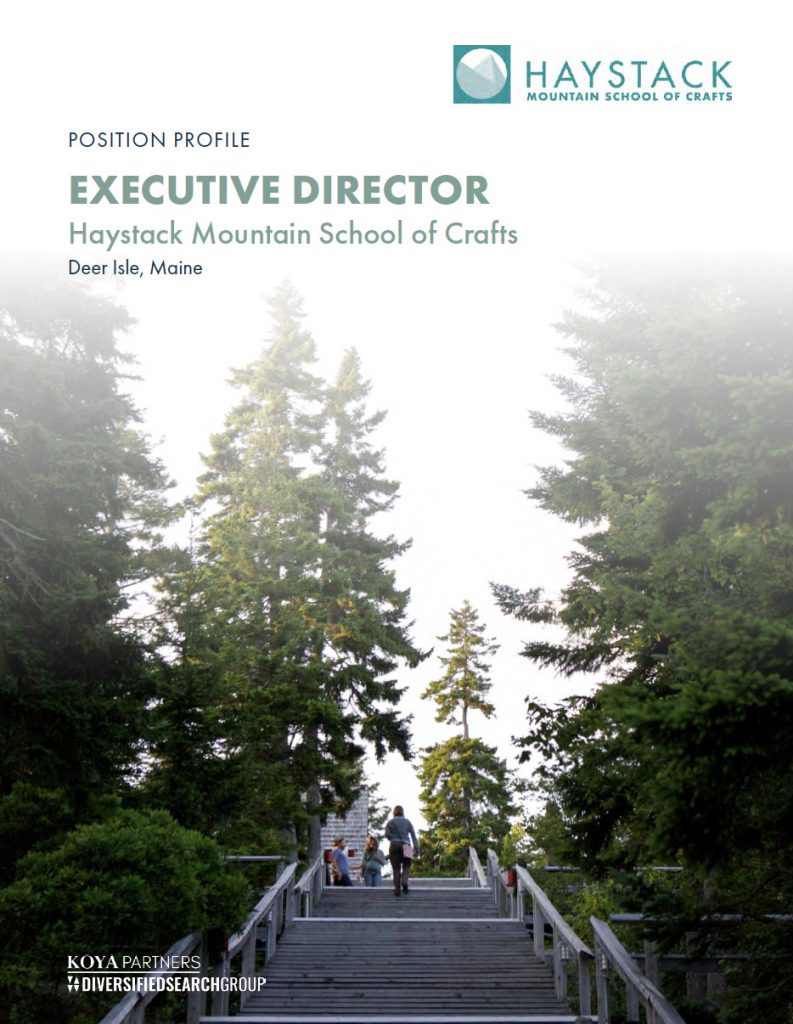 The ideal candidate for the Executive Director of Haystack
Mountain School of Crafts will demonstrate a passionate
commitment to the organization's mission, vision, and
values, and to advancing the field of craft, art, and design.
This person will be a forward-looking leader who will sustain and cultivate Haystack's
position at the vanguard of contemporary craft. Building on the strength of the
Strategic Plan, the Executive Director will engage and inspire a broad and diverse
network to build philanthropic support so that Haystack can meet the changing needs
of the 21st century, some of which include:
• increasing accessibility physically to the campus, economically through
scholarships and other support, and virtually through digital programming and
other offerings;
• advancing a more comprehensive and inclusive conception of contemporary
craft and making that holds true to Haystack's commitment to excellence; and
• continuing to pursue goals of equity in relation to staff, board, and participants
throughout the organization.
The Executive Director builds and stewards relationships with broadly diverse
constituencies, partners, and communities, locally, nationally, and globally; the
successful candidate will have genuine compassion for and curiosity about people
and will enthusiastically embrace the role of bridge-builder and "the face of
Haystack," whether locally in the Deer Isle community or among international leaders
in the field of contemporary craft. This individual will bring experience and skill in
working collaboratively with an active and engaged board, particularly around
supporting the board in educating new members in best practices and expectations.
The next Executive Director will be transparent, collaborative, and inclusive, and
will use empathy and high emotional intelligence to partner with, support, and
motivate a committed staff. A strong systems thinker, the Executive Director will further
the professionalization of processes and procedures in place while maintaining
Haystack's hands-on and experimental character. Given the significance and
uniqueness of the physical campus and its needs, the next Executive Director should
be comfortable with capital projects and have an understanding of facility needs, in
order to establish strong, trust-based reporting relationships with facilities staff and the
building and grounds committee.
The successful candidate will have a positive, "can-do" mindset, good humor, and
confident self-possession. Resilience and the ability to "grow and thrive where one
is planted" will be essential in sustaining balance through the program-intensive activities of the summer as well as the quieter but no less productive planning stages,
including the development of annual collateral materials during the winter months.
This individual will live in close proximity to Haystack year-round while also traveling
frequently to promote the work of the organization.

More info here: https://koyapartners.com/search/ed-haystack-crafts/