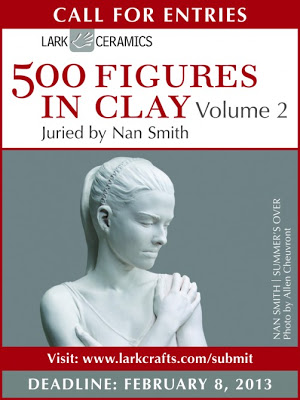 Lark Crafts seeks images to publish in a new collection of figures in clay, to be juried by Nan Smith.
While artwork may be abstract to some degree, each piece must be based
on and recognizable as the human form. Artists may submit images for up
to two original works with three details of each piece. Note that as a
book of new work, no artwork created before 2004 will be considered, and
priority will be given to pieces created within the last five years.
There is no entry fee. We can accept only high-quality digital images.
Artists will receive full acknowledgment within the book, a
complimentary copy, and discounts on the purchase of additional books.
Artists retain copyright of their work.
All submissions must be submitted electronically through Juried Art
Services. Note that there is no fee for using Juried Art Services. The
entry page can be found at the following link: http://www.juriedartservices.com/index.php?content=event_info&event_id=590
Entries must be submitted by February 8, 2013.