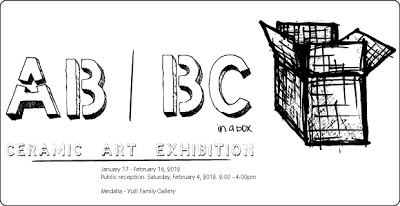 Medicine Hat – The Potters' Guild of British Columbia (PGBC) and Alberta Potters Association (APA) have developed a new collaborative travelling art exhibition. The show, titled "Alberta / BC in a Box," is on display at Medalta's Yuill Family Gallery from January 17 – February 16 with a public reception on Saturday, February 4 from 2:00 – 4:00pm.
The idea of two clay exhibitions traveling simultaneously in Alberta and BC began to take shape in 2010. The works would be of reduced size (boxed at 6"x6"x6") so that it can be transported with ease. This constraint presented challenges to some of the artists, many of whom are comfortable working on a much larger scale. The artists, for their part, met the challenge head-on and created work which shows a deep connection to the rich culture, heritage and landscape of the artists' home. Although the PGBC is presenting its third manifestation of its travelling exhibition, this is the first to be developed in collaboration with the APA. BC-in-a-Box 3: The Edge of Here is the British Columbia contribution to the project while the APA theme is Wide Open.
The exhibition at Medalta marks the only time that all artwork will be in the same place. With ceramics on the move across two provinces, viewers will be exposed to a wider variety of artists than can normally be seen. Everyone is welcome to attend the public reception on Saturday, February 4 from 2:00 – 4:00pm.
The Historic Clay District is a 150-acre National Historic Site in Medicine Hat, Alberta which encompasses a number of historically significant clay factory sites. One of the centerpieces of the Historic Clay District is the Medalta Potteries National Historic Site, which features an industrial history museum, major industrial archaeological excavation, contemporary ceramic artists-in-residence program and working pottery. It is one of eight major attractors within the Canadian Badlands and receives significant support from the Government of Canada, Government of Alberta and City of Medicine Hat.
For more information, visuals or interviews, contact:
Quentin Randall
Marketing & Fundraising Coordinator
Medalta, in the Historic Clay District
403.529.1070
quentin@medalta.org
medalta.org