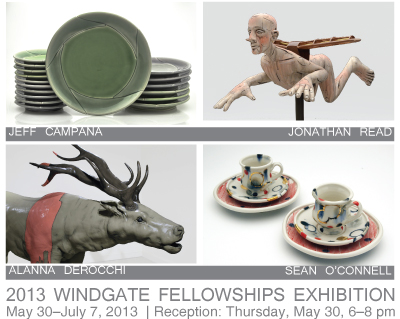 Join
us in celebration of our second-year fellowship artists Jeff Campana,
Alanna DeRocchi, Sean O'Connell and Jonathan Read. The Windgate Fellows
will finish their residency at the Bray this fall.

Opening Reception this Thursday, May 30, 6–8 pm
Can't make it in person? View the exhibition at our Online Sales Gallery beginning Thursday, May 30.
The
Windgate Fellowships were established in 2012 thanks to a generous
two-year grant given to the Bray by the Windgate Charitable Foundation
in support of artist fellowships, scholarships and studio costs. Each
fellowship awards $5,000 to a long-term resident artist, with additional
funds provided to cover the Bray's studio costs for each resident.
archiebrayfoundation | 2915 Country Club Ave, Helena, MT 59602 | 406/443-3502 | www.archiebray.org