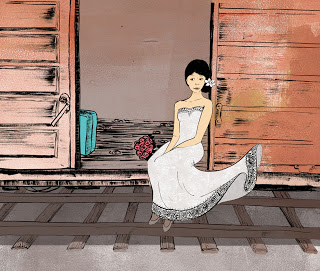 She knew she could do better –Noreen Lehfeldt.
2012, 33 x 39 cm, ink, gouache, acrylic, digital, collection of the artist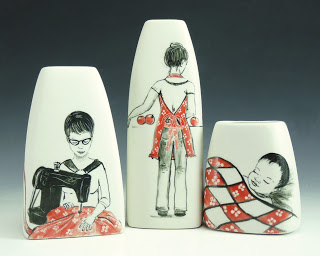 My parenting is a chain reaction of generations –Ruthie Burritt.
2012, 20 x 30 cm, porcelain, underglazes, collection of the artist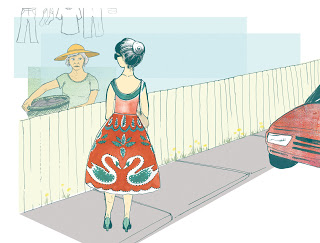 And
she asked me over the fence, "have you ever met his wife? Is she still
alive?"
"Yes," I said, "to both questions" –Susan Penrose.
2012, 33 x 45 cm, ink, gouache, acrylic, digital, collection of the artist
Sweetened Condensed is a series of illustrations and illustrated
ceramics by Elizabeth Burritt based on a selection of one-line stories, each by
a different writer. The project explores narratives that are restricted in
length and convey only the most basic information, thereby leaving space for interpretation
and exploration.
The stories were solicited from friends and strangers with the promise
that those who penned the selections for the final project would receive prints
of the illustrations in return for their efforts. The project created unique collaborations
between writers and artists who used blogs to track progress and to allow
viewers to witness developments.
Elizabeth Burritt is an artist and designer whose practice includes
ceramics, illustration, jewellery and graphic design. Her illustration work is
line-based and incorporates gouache, collage and digital mark-making while her
ceramics are primarily unglazed porcelain pieces that feature decorations
rendered in ceramic pigment and permanently high-fired onto the surfaces.
Burritt's education includes a diploma in editorial illustration from Sheridan
College and a bachelor's degree in fine arts from Emily Carr University of Art
and Design. Originally from Ontario, she now lives in Medicine Hat with her
husband and two daughters.
Exhibition Information
18 framed works and 5 objects in Plexiglas cases
1 artist
2 crates
50 running feet
The reception is this Saturday during Alberta Culture Day's at the Yuill Family Gallery at Medalta 1-3pm.
Curator
Xanthe Isbister, Esplanade Arts and Heritage Centre, for the Alberta Foundation
for the Arts Travelling Exhibition Program
About TREX
Each year over
300,000 Albertans experience a Travelling Art exhibition, known as TREX.
These professionally organized exhibitions travel all over the province
to schools, libraries, health centres and small rural museums
or galleries. The program is unique, the only one of its kind in
western Canada, and runs 12 months of the year, with an average of 7
exhibitions travelling per month. This year 112 exhibitions are
scheduled to be on display at over 30 venues from as far south
as Milk River to as far north as Stettler, and everywhere in-between.
Since 1981, the
Alberta Foundation for the Arts has supported the Travelling Exhibition
program, and it has been organized in our region by the Esplanade Arts
and Heritage Centre (formally the Medicine Hat Museum and
Art Gallery) for the past 17 years. The program's mandate is to provide
every Albertan with the opportunity to enjoy visual art exhibitions in
their community, supporting and promoting Alberta-made art, with each
exhibition travelling for 2 years.