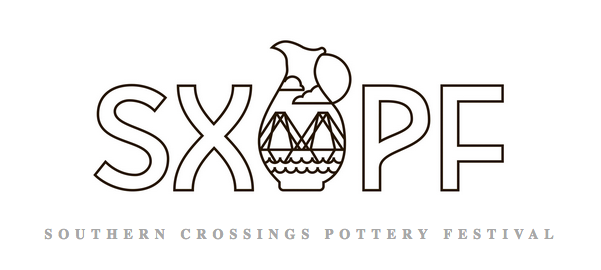 Southern Crossings Pottery Festival's focus is on the significance of handmade pottery by celebrating the object, it's maker, and the utilitarian use in nourishing ourselves and those around us.
Our mission is to introduce to you, our Ohio River Valley communities, collectors, pottery enthusiasts and the curious, to local and regional potters, as well as several nationally recognized potters. The two-day festival includes a market consisting of handmade goods and functional wares, and an Empty Bowls fundraising event benefiting A Recipe To End Hunger — a non-profit organization solving childhood hunger one meal at a time in Kentuckiana.
In the years to come we envision hands on activities, lectures, and exhibitions with other local clay organizations, universities, galleries and museums while creating an event that celebrates how clay and pottery, by design, connects us all.
SAVE THE DATE!
March 2nd and 3rd, 2018
SXPF Potters Market
Friday, March 2, 2018
VIP Sneak Preview & First Pick (Ticketed Event)   •   5:00 – 6:00 PM
VIP ticket holders will have access to see and purchase the work of 9 esteemed potters prior
to the opening reception. Complimentary Copper and King signature cocktail provided by SXPF for
our VIP along with a cash bar, hors d'oeuvres, and live entertainment.
Located at Copper & Kings, 2nd Floor
1121 E Washington St, Louisville, KY 40206
Purchase VIP Tickets here (coming soon!)
Opening Reception (FREE)   •   6:00 – 9:00 PM
Open and free to the public. Come see and shop the work of 9 esteemed potters.
Cash bar, hors d'oeuvres, and live entertainment.
Located at Copper & Kings, 2nd Floor
1121 E Washington St, Louisville, KY 40206
Saturday, March 3, 2018
Pottery Market (FREE)   •   10:00 AM – 4:30 PM
Open and free to the public. Come see and shop the work of 9 esteemed potters.
Located at Copper & Kings, 2nd Floor
1121 E Washington St, Louisville, KY 40206
2018 Artists: Jason Bige Burnett, Kyle Carpenter, Didem Mert, Jim Gottuso, Amy Chase, Steven G Cheek, David Kenton Kring, Amelia Stamps, Lindsay Oesterritter
Full details on their website: www.sxpf.org