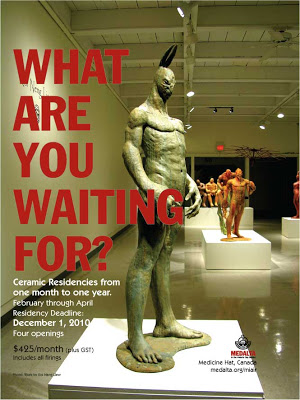 December 1st is the next deadline to apply for the Medalta AIR program.
Find out more about how to apply for the residency here.
Plus:
On Thursday, November 18 (7:00pm), three visiting artists to Medalta's Artists in Residence program will be giving presentations on their work at Medalta's Shaw Centre.
Rachael Kroeker is a Manitoba-based artist who is wrapping up her very successful four-month residency.
Koi Neng Liew is in the first stages of a twelve month residency, as is Xanthe Isbister.
For more information on the artists, please see the attached Artists' bios for Xanthe and Liew.
If you have any questions, would like visuals or would like to set up an interview with the artists, you can contact:
Quentin Randall – Marketing Coordinator
Medalta, in the Historic Clay District
quentin@medalta.org
403.529.1070