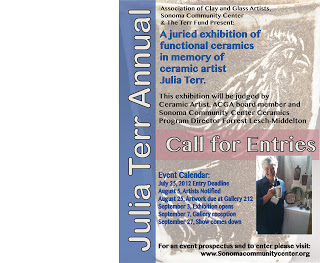 The Association of Clay and Glass Artists of California
(ACGA), The Sonoma Community Center, and the Julia Terr Fund for Ceramic Arts
announce an open call for all ceramic artists to submit work to The Julia Terr Annual: A Juried Exhibition
of Functional Ceramic Arts.
The judge of the competition will be Forrest Lesch-Middleton
of Petaluma, California. All proceeds from the show will benefit the Sonoma
Community Center and the Julia Terr Fund for Ceramic Arts.
The deadline for submission is July 25, 2012. Artists will
be notified by August 5th.
Selected work must be received by August 25th.
The exhibition will be held in the gallery of the Sonoma
Community Center on September 3rd to September 26, 2012.
Julia Terr was a ceramic artist from Cloverdale, California
who died in a car accident in 2009. Her family and friends established a fund
in her memory to support those institutions which provide continuing education in
ceramic arts in the United States. The
Julia Terr Fund for Ceramic Arts has donated money and kilns to Penland
School of Crafts; Ruby's Clay Studio in San Francisco; Haystack Mountain School
of Crafts in Deer Isle, Maine; and the Archie Bray Foundation for Ceramic Arts
in Helena, Montana.
Founded in 1953, the Sonoma Community Center has been meeting the cultural and
recreational needs of Sonoma Valley for more than 50 years. Currently, the Center
is a non-profit 501(c)3 organization that sponsors programs in drawing,
painting, pottery and ceramics, theater, music and more.
The Association of
Clay and Glass Artists of California is dedicated to establishing and
maintaining high standards of craftsmanship and design in clay and glass with
over 500 members including clay and glass artists, students, patrons and
supporters, galleries, network organizations and corporate sponsors throughout
California.
Forrest
Lesch-Middleton is an accomplished ceramic artist whose work has been show
at The Northern Clay Center, Baltimore Clayworks, Trax Gallery, AKAR Gallery
among many others. He has a B.A from Alfred University in Ceramics and an MFA
in ceramics from Utah State University.