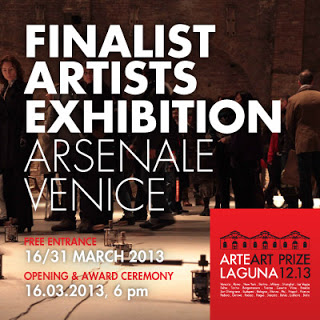 Opening
Saturday 16 March, 6 pm
The
Arsenale of Venice opens its doors, for
the fourth consecutive year, to the
finalists of the seventh edition of Arte
Laguna Prize: from the 17th to
the 31st of March at Tese di
San Cristoforo, the works of the 105
international artists selected for the
categories: painting, sculpture and
installation, video art and performance
and photographic art are on view.
Other 5 works
from the virtual art section are hosted
at the Telecom Italia Future Centre,
close to the Rialto Bridge.
A
further special selection of
young under-25 artists is on
view at the Romanian Institute
of Venice, a high-visibility
showcase on the way to Saint
Mark's Square.
During the
opening night, on Saturday March 16th,
the five absolute winners will be
announced, one for each category, and
they will be awarded a cash prize of
7,000 Euros each.
The names of
the winners of the special prizes will
also be revealed: participation in
festivals and exhibitions of national
resonance, personal exhibitions at the
21 international galleries that are part
of the Prize circuit, the Prize Business
for Art featuring the collaboration with
companies investing in art, in addition
to the 6 art residencies in Venice,
Vicenza, Basel, Ptuj (Slovenia), Mumbai
and Beijing.
The total
amount of the prizes is 180,000 Euros.
On the days of
the exhibition other events are
scheduled.
Here is
the Agenda:
– Sunday March
17, Arsenale, 11.30 am: guided tour of
the exhibition and debate with jurors
and gallerists
– Sunday March
17, Romanian Institute, 3.00 pm: opening
of the Exhibition of Under25 and
interviews to the young artists
– Saturday
March 23, Telecom Italia Future Centre,
3.00 pm: meeting on "The new ways of
making art and new technologies"
– Saturday
March 30, Arsenale, 3.00 pm: meeting on
"The reutilization of former industrial
areas today"