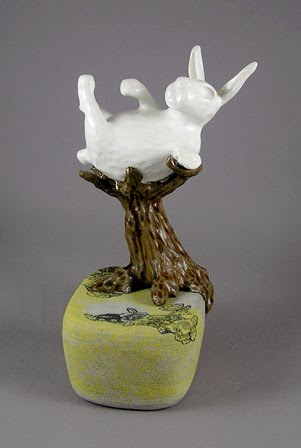 Group Exhibition
on, Saturday, November 2, 3 to 5 pm
The Makings IV continues
our gallery's annual focus on ceramics. Once again we offer a wide
variety of sculptural and functional ceramic works from a wide range of
artists from across Alberta and other parts. Our website and gallery
exhibition will be updated throughout the month, so visit us anytime.
Some of the participating artists are: Ed Bamiling, Lisa McGrath, Mindy
Andrews, Bradley Keys, Sarah Pike, Robin Dupont, Les Manning, John
Chalke, Barbara Tipton, Emily Schroeder Willis, Ruth Chambers, Sean
Kunz, Do-Hee Sung, Fran Cuyler, Katrina Chaytor, Reed Weir.
Out and About – the mountain tops are white, we have
brilliant blue skies, and everything is just gorgeous. The clear crisp
air means we hear the Mountain Chickadees, Nuthatches, Blue Jays,
Clark's Nutcrackers and Ravens more often.
Image: Lisa McGrath, Branching Out, stoneware, decal, hand painted
Willock & Sax Gallery
PO Box 2469, 210 Bear Street
Banff, Alberta T1L 1C2
Canada