I recently had the great honor to be invited to show alongside Linda Fahey (curator/organizer of Rising Water) and since I couldn't make the journey down to San Fransisco, I asked Linda if she would share with musing some images from the exhibition. Many thanks to Linda for all her energy and time organizing the event. To all those who helped her out and to Jay Mercado who hosted the exhibition in his studio.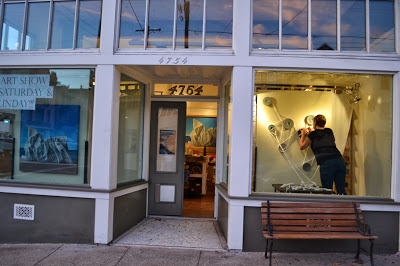 The following images and writing thanks to Linda.
Show artists:
Teresa Marchese
Zan Levine
Mariko Paterson
Erika Peterson
Barbara Vanderbeck
Jesse Lu Schreier
Carole Epp
+ 30 additional guest ceramic artists who donated cups for fundraising for Surfrider Foundation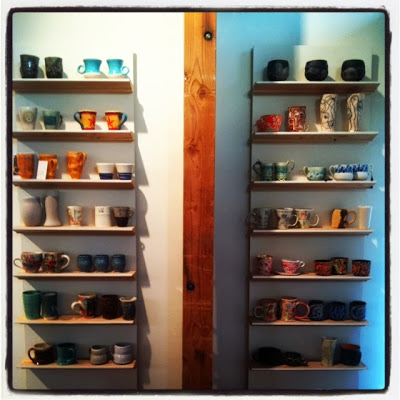 What?
Rising
Water was a plan hatched during late night online conversation with
Mariko Paterson about this time last year. We were getting excited about
organizing a group show together, one in San Francisco, one in
Vancouver. How ambitious. Such grande plans. We talked about getting
both SFBay Area and Canadian talent involved – and how we would take the
show on the road. Sounded like a very exciting project.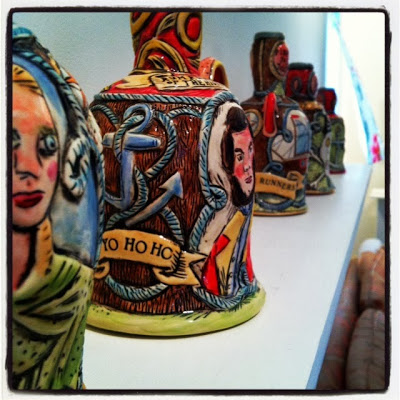 I don't
know where that year went! The show just opened in San Francisco,
Friday, Oct 18 to great success! The place was packed with people, we
sold a good bit of work. We got to meet many of our online friends in
person!
It
was important for the subject matter to have a conservation piece, and I
wanted to have a cup wall with invited artists, and I definitely wanted
a mix-media show. A small group of nine artists local and abroad were
identified because I thought they would bring together something both
innocent and genuine to the storyline. We didn't have time to
photographically curate actual work; had to give them the subject matter
and wait to see how it would all come together. It worked beautifully.
There was such independence and a strong stylistic voice for each
artist, the pieces all stood well on their own, and still creating
relationship around the room.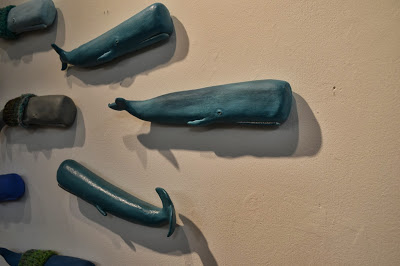 The Cup Wall — there are so many bright stars in
the lineup, and there were pieces from Canada, Australia, around the US.
There were 33 artists participating on the cup wall.
When & Where
The show — studio open
Sat&Sun Oct 26&27, as part of Artspan's SF Open Studios and
hosted by Jay Mercado Studio 4754 California Street, SF, Ca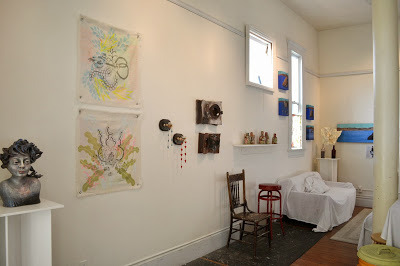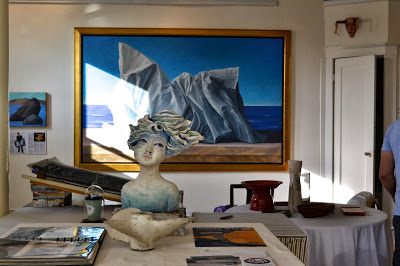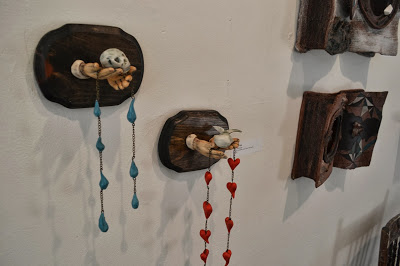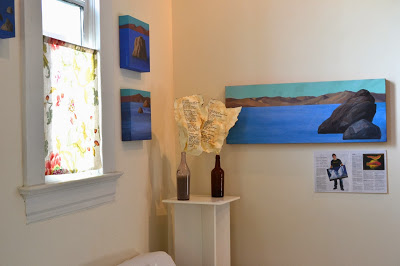 Surfrider
Foundation is made up of local chapters. It's a volunteer organization
— it's so much like any art group working hard, often volunteering
mountains of time and energy for something they are passionate about.
Saving the integrity, beauty and ability to enjoy our Coastline.
—