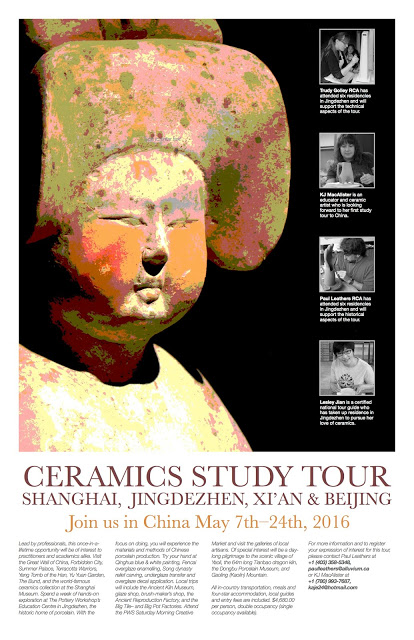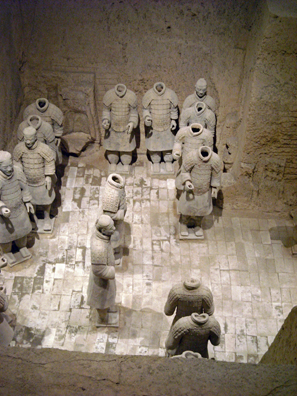 May 7th – 24th, 2016
Lead by professionals, this once-in-a-lifetime opportunity will be of interest to both practitioners and academics alike. Visit the Great Wall of China, the Forbidden City, Summer Palace, Terracotta Warriors, the Yang Tomb of the Han, Yu Yuan Garden, The Bund, and the world-famous ceramics collection at the Shanghai Museum.
Spend a week filled with hands-on exploration at The Pottery Workshop's Education Centre in Jingdezhen—the historic home of porcelain. With a focus on doing, you will experience the materials and methods of porcelain production. Try your hand at Qinghua blue & white painting, Fencai overglaze enamelling, Song dynasty relief carving, underglaze transfer and overglaze decal application. Local trips will include the Ancient Kiln Museum, glaze shop, brush-maker's shop, and the Ancient Reproduction Factory, and the Big Tile– and Big Pot Factories. Attend the PWS Saturday Morning Market and visit the galleries of local artisans. Of special interest will be a day–long pilgrimage to the scenic village of Yaoli, the 64m long Tianbao dragon kiln, the Porcelain Museum at Dongbu, and Gaoling (Kaolin) Mountain.
All in-country transportation, four-star accommodation and meals, local guides and entry fees are included. $4,680.00 per person, double occupancy (single occupancy available).
For more information and to register your expression of interest for this tour, please contact Paul Leathers at +1 (403) 358-5348, paulleathers@alluvium.ca or KJ MacAlister at +1 (780) 993-7687, kaje24@hotmail.com