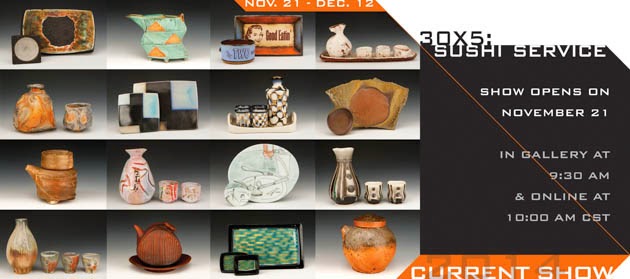 Current Show:
30 X 5: The Sushi Service
Our annual Holiday show, 30 X 5 (30 potters, 5 pots each),
is now open! The Sushi Service includes a combination of Sushi Sets,
Sake Sets, and Soy Bottles. With 135 pieces to choose from, this is
truly a unique and fun exhibit for both Sushi and Ceramic lovers.
Participating Artists: Dan Anderson, Nicole Aquillano,
Karl Borgeson, Chris Burd, Billy Cho, Linda Christianson, Bede Clarke,
Steven Colby, David Crane, Mike Gesiakowski, Steve Hansen, Autumn
Higgins, Michael Hunt & Naomi Dalglish, Jake Johnson, Justin
Lambert, Linda McFarling, Lorna Meaden, Christopher Melia, Sean
O'Connell, Jeff Oestreich, Lisa Pedolsky, Justin Rothshank, Akira
Satake, Ellen Shankin, Jeff Shapiro, Stacy Snyder and Shumpei Yamaki.
Pictured
Above: Mike Gesiakowski, Jeff Oestreich, Steve Hansen, Steven Colby,
Akira Satake, David Crane, Sean O'Connell, Shumpei Yamaki, Linda
Christianson, Justin Rothshank, Autumn Higgins, Christopher Melia,
Justin Lambert, Ellen Shankin, Jake Johnson and Bede Clarke.
View the show at www.akardesign.com.