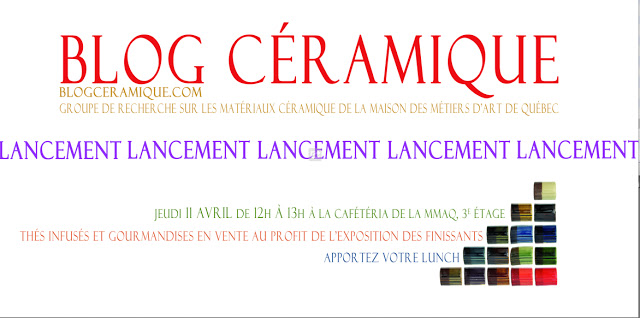 Vous êtes cordialement invités au lancement de
blogceramique.com
, un espace de partage d'expertise du Groupe de recherche sur les matériaux céramique de la Maison des métiers d'art de Québec.
Le lancement aura lieu le jeudi 11 avril
2013, de 12 h à 13 g à la cafétéria de la MMAQ, 3e étage. Thés infusés
et gourmandises seront vendues au profit de l'exposition des finissants
de la cohorte 2013. Apportez votre dîner et bienvenue à tous.
You are cordially invited to the launch of blogceramique.com a space for sharing expertise of the Research Group on ceramic materials of the House of Crafts Quebec.
The launch will take place Thursday, April 11, 2013, from 12 am to 13 g in the cafeteria MMAQ, 3rd floor. Brewed teas and sweets will be sold for the benefit of the exposure of the cohort graduating in 2013. Bring your lunch and welcome.