Bob Briscoe, Jason Trebs, Jan McKeachie Johnston, Randy Johnston,
Zac Spates, Guillermo Cuellar, Linda Christianson, Wayne Branum,
and Matthew Krousey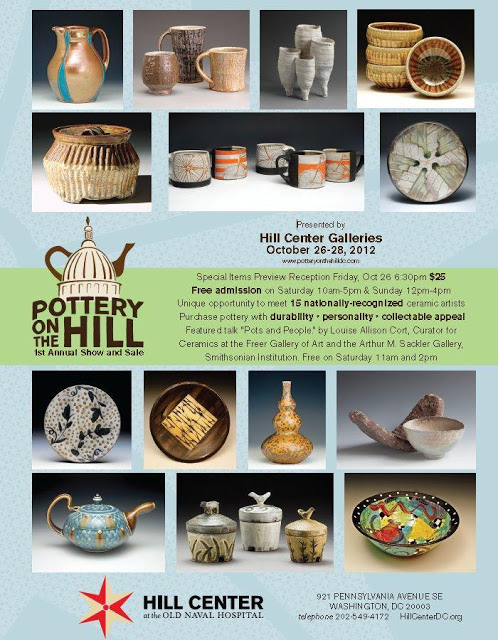 October 26 through October 28, fifteen nationally-recognized ceramic
artists bring recently-fired, colorful and durable creations to Hill
Center for show and sale.
This Friday evening's reception party with these artists assures
first choice among their freshly-fired creations. This one-on-one time
with these artists begins at 6:30 p.m. through 9 p.m. Reserve tickets $25 online.
If you haven't discovered their pottery, this is your unique
opportunity to talk with them about finding a place in your home for
their quality dinner plates, mugs, platters, vases and pots. These are
one-of-a-kind, shaped by hand and finished by fire in time for this
intimate venue at Hill Center.
Many in the Washington, D.C. region who over the years have traveled
far to find these artists, will drive the short distance to be at Hill
Center to purchase the plates, mugs, cookware and collectables they have
made a part of their lives.
The public show and sale continues during the weekend with free admission both Saturday morning October 27 at 10 a.m. until 5 p.m. and Sunday October 28 at noon until 4 p.m.
Louise Allison Cort, the Curator for Ceramics at the Smithsonian's Freer Gallery of Art and the Arthur M. Sackler Gallery, will deliver a free talk entitled "Pots and People" at 11:00 am and 2:00 pm on Saturday.
Participating artists: