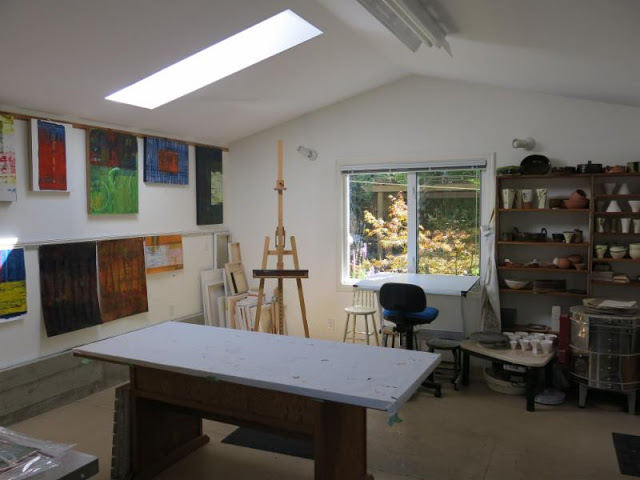 The Vancouver Island School of Art has worked in
partnership with the Kreye family, to establish the Bonnie McComb Kreye
Studio Residency. Residents have the use of a private garden studio for 3
months or 1 month (with accommodation), with opportunity to exhibit
their work in the Slide Room Gallery. The residency is open to artists
working in all media and across disciplines.
This is the first residency of its kind in Victoria, now in
its second year, and VISA is pleased to be part of this exciting new
project. The residency has been created by Donald Kreye in memory of his
late wife Bonnie McComb Kreye, who was an artist and educator, who
devoted her life to making art and to encouraging the creative
talents of all those she came in contact with. She understood the power
of art to change lives and to enrich society. The family chose to
partner with VISA in offering Bonnie's studio for a short- term artist
residency, because VISA, like Bonnie, was dedicated to arts education
and support of the local art scene and community at large.
The Bonnie McComb Kreye Studio Residency is open
all emerging and mid career artists including VISA students and alumni.
Opportunities for artists to give talks and workshops at VISA can be
discussed. Three applicants will be selected each year. Their final art
works will be considered for an exhibition in Slide Room Gallery. The
Slide Room Gallery is a professional not-for-profit independent gallery
space located on the lower level of VISA.
Studio: Residents will have the use a 30
square metre studio space in a private, self-contained garden building
with a washroom, work tables, and a kitchenette. All lighting, heat,
water, insurance costs are included. The studio is walking distance to
UVic, buses, grocery stores, cafés, forest and beach. The fall and
winter residencies do not include housing for the three month but
suggestions can be provided regarding accommodation in Victoria. The one
month summer residency will include accommodation in a 32 square metre
furnished apartment on site. Travel costs must be covered by the artist.
Cost: There is no charge to residency for
the studio residency. There is an administrative fee of $100 for the
each selected resident to be paid to Vancouver Island School of Art.
Residency Dates for 2017: Winter (January 3-March 31), Summer (June 3 – June 30) *includes accommodation, Fall (September 5-November 30)
Enquires: direct questions regarding Studio Residency to bmkresidency@gmail.com