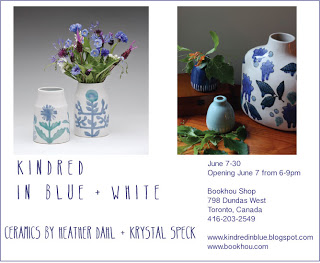 'Kindred in Blue + White' is the title of a show combining the ceramics of
Krystal Speck from Toronto and Heather Dahl from Vancouver at Bookhou
in Toronto from June 7-30, 2012.
The idea for the show came about as Heather discovered Krystal's ceramics
online and felt that their work was 'kindred' to her own, sharing a spirit, sensibility,
and process to making with clay. As the two artists began to connect, a friendship
was formed along with the concept of creating a exhibit together.
Bookhou shop came up as a place that this kindred connection could be showcased
in. As one of Toronto's treasures, Bookhou is the bricks and mortar shop of artists
John and Arounna who make their own textiles, furniture, accessories, and art as a
family.
Opening June 7 from 6-9pm
Bookhou Shop
(http://www.bookhou.com/contact.html)
798 Dundas West
Toronto, Canada
416-203-2549
www.kindredinblue.blogspot.com
www.bookhou.com

Heather Dahl will also be speaking at the Gardiner Museum
on Sunday, June 10 at 3pm. She will be
sharing images of past to present work, along with sharing her
experiences as a ceramic artist today. Make sure not to miss it!
rsvp: kierin@gardinermuseum.com