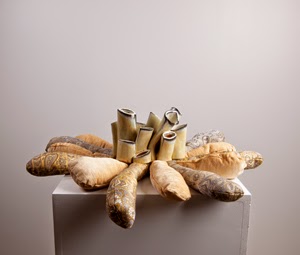 Yellow Salt Growth –

Stephanie Jonsson
Some information about my work:
My research investigates the use of ornament in Western culture, aesthetic reactions to Modernism, and our culture's obsession with image, appearance, and fabricated "natural" designs. I am interested in themes of repetition, pattern, obsession, accumulation, sex/gender, and the handmade. Through the disciplines of installation and ceramic sculpture, my practice explores the dichotomies of craft and fine art, nature and technology, the handmade and machine. The 19th Century practice of conventionalization and reduction of the plant form in order to confirm to anthropocentric systems of order, as well as its contemporary manifestation, is precisely the type of appropriation I am interested in.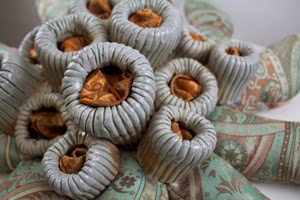 Soda Favites –

Stephanie Jonsson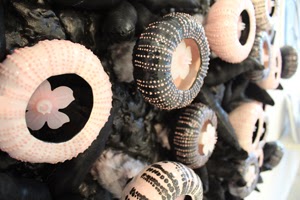 Urban Urchins –

Stephanie Jonsson

Eva Hesse
Why Eva Hesse inspires me:
Eva Hesse's work has a unique relationship to materials and process. She was obsessed with absurdity, and her organic manipulation of the physical properties of sculpture often referenced the female body. Hesse is an inspiration to me because she was making work that spoke to the realities of being a woman in the 1960s art world in New York, without being literal or cliché.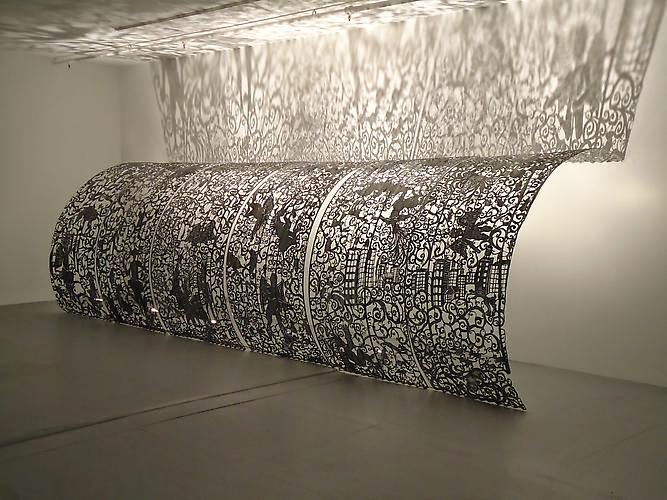 Cal Lane
Why Cal Lane inspires me:
The work of Cal Lane shifts traditionally female ornate sources such as doilies and tablecloths onto metal tools and objects which are traditionally gendered male. She calls to mind all things feminine with her lace cutouts: lacemaking, cake decorating and traditional "women's work". Using a plasma torch, Lane makes lace like patterns out of rusted metal objects such as shovels, cars, or other industrial tools and transforms them into fragile, flower-patterned cutouts. I am inspired by Lane's use of organic patterning and her subversion of traditional gender roles in our contemporary society.
Why Yayoi Kusama inspires me:
Like Hesse, Yayoi Kusama was also a female artist in New York in the 1960's, although she spent considerable time in her native country Japan. She began to cover everyday objects with white phallic protrusions, rendering them at once absurd and threatening. She has a very obsessive personality and speaks openly about her mental illness and hallucinations of millions of dots. Her work with accumulations and repetition fascinates me, and I want my work to be simultaneously attractive and repulsive in the same way Kusama's work operates.
Contact info, etc:e-mail: steph.jonsson@gmail.com
website: www.stephaniejonsson.com
blog: https://stephanie-jonsson.squarespace.com/blog/
~ want to share your influences with musing readers? drop me a line at musingaboumud@gmail.com ~