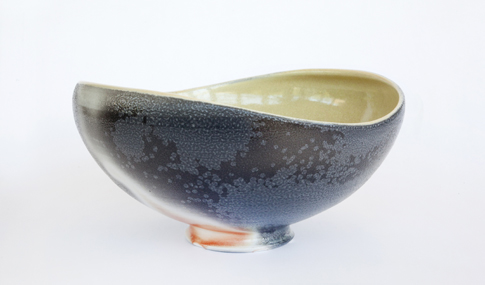 Marcelina Salazar. Serving Bowl, 2013. Cone 10 porcelain, wood fired, soda glazed. Photo: Becky Comber
Carl & Rose, Tony Clennell, Brad Copping, Susie Osler, Marcelina Salazar, Krystal Speck, Jenna Stanton, Rachael Wong
Curated by Melanie Egan
June 22 – September 15, 2013
Terrain is used as a general term in physical geography, often
referring to the visible layer of land. We often think of terrain as
broad and expansive, however, the subtle surface changes on an object
translate into a micro-topography and a feast for the eyes. Terrain can
be the main event – inspiring, remarkable and evocative – as well as an
invitation to discover what lies beneath.
– Melanie Egan
Head, Craft, Harbourfront Centre
235 Queens Quay W. Toronto, ON M5J 2G8, Canada
235 Queens Quay W.
Toronto, ON
M5J 2G8, Canada